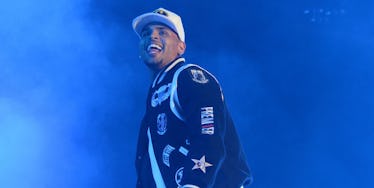 Chris Brown Drops A New Song For The Haters After His Deadly Weapon Arrest
REX/Shutterstock
This week has been a busy one for Chris Brown.
The singer was arrested on suspicion of assault with a deadly weapon early Tuesday morning and was released from jail just after midnight after posting $250,000 bail.
Obviously, the 27-year-old thought this would be a perfect time to drop some fresh beats.
On Wednesday evening, he hit Twitter with a SoundCloud link to a new song titled "What Would You Do?".
We don't know if he put this catchy, upbeat song together in the wake of recent events involving his arrest and accusation from California beauty queen Baylee Curran. Regardless, it's pretty appropriate.
I mean, it could be just a coincidence. Here are some of the lyrics:
I've got some questions, some questions for you / I need some answers, answers from you / What do you do, fighting for your life when no one's on your side? / I can't stand to loose you, see you're in too deep with nowhere to hide.
After being released from jail, he posted a quick video on Instagram telling fans he's not going to let this incident get him down.
He said,
Yo, you know all this bullshit going on man, I'm just gonna turn the other cheek and drop some music.
Hey Chris, I honestly don't know what you do when no one's on your side, but dropping this song was a good move.
Citations: PEOPLE (Chris Brown Releases New Song 'What Would You Do' Less Than 24 Hours After Deadly Weapon Arrest)