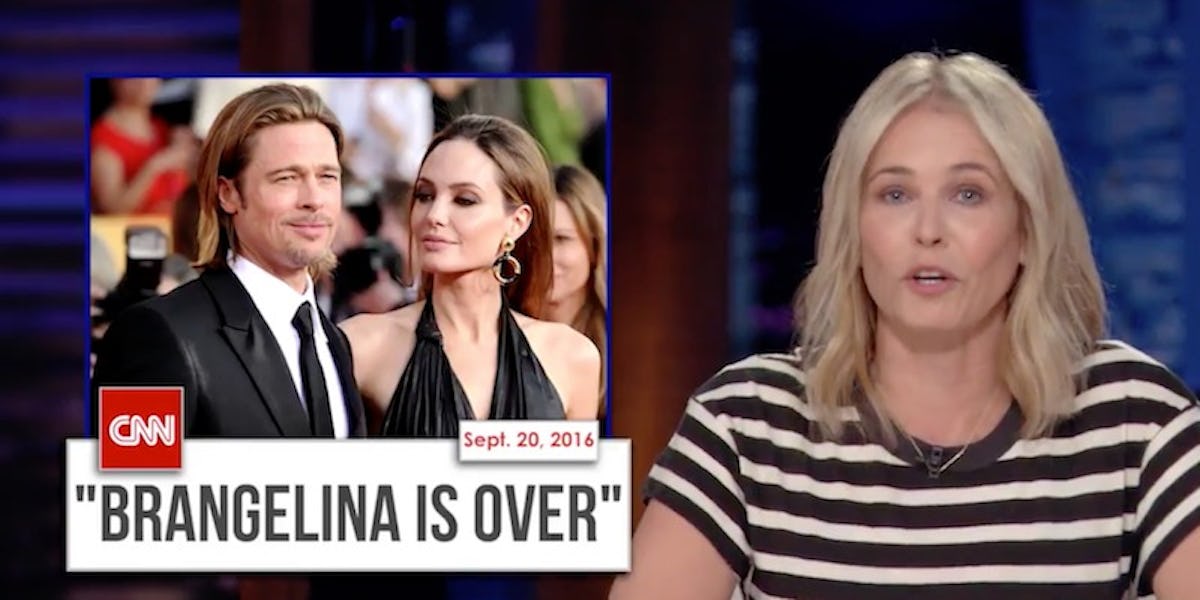 Chelsea Handler Called Angelina Jolie A 'Lunatic' After Split With Brad Pitt
Twitter
Plenty of celebrities are setting time aside from their busy schedules to weigh in on the Brangelina split.
First, model Chrissy Teigen took to Twitter to express how saddened she was by the news of Angelina Jolie and Brad Pitt's divorce after two years of marriage and twelve years of their relationship in total.
Reporters then caught up with George Clooney, Pitt's longtime BFF, to ask him for his thoughts on the abrupt split. Clooney was just as shocked as the rest of us.
The most recent celebrity to step forward and speak on the situation? None other than the oh-so-hilarious Chelsea Handler.
If we're waiting for ANYONE'S two cents on this heartbreaking news (besides Jennifer Aniston's), it's Chelsea's.
The 41-year-old talk show host and comedian took to her self-titled Netflix show to address the sudden split, saying,
Brad and Angelina always said they wouldn't get married until everyone could get married. And I always said I wouldn't get married until they got divorced. So I'm officially accepting proposals! I'm ready!
Oh, Chelsea. You always know just what to say during the darkest of times.
She didn't stop there.
Handler hilariously continued,
There are rumors that part of the problem was Brad was allegedly drinking and smoking too much weed. I wonder why he needed to self-medicate. Maybe because he could have been spending the last 12 years at Lake Como hanging out with George Clooney and Matt Damon, instead of being stuck in a house with 85 kids speaking 15 different languages?
I never thought I'd utter these words... but Chelsea Handler has a damn good point. She then went on to say that Brad Pitt's alleged smoking and drinking habits stemmed from marrying "a f*cking lunatic."
BURN!
Check out the hilarious segment below.
Chelsea Handler closed out her ode to Brangelina, concluding,
But we should all respect their privacy during this very difficult time. So, this will be the last time I speak of this ...on TV. You can follow me on Twitter.
Evidently, she really is done addressing the Brangelina split... on television. Her tweets are alive and well!
Here's what we learned, people: If you ever want someone to tell it like it is, leave it to Chelsea Handler.
Citations: Chelsea Handler Says Brad Pitt 'Married a F**king Lunatic' After Angelina Jolie Files for Divorce (Entertainment Tonight)