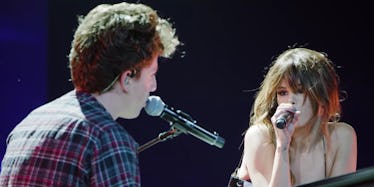 Charlie Puth Knew He Had To Work With Selena Gomez After One FaceTime
YouTube
If you were in NYC on Tuesday afternoon, you may have heard Charlie Puth's angelic voice while walking through Herald Square.
It wasn't your imagination, people, or even a dream. Nope, it was really him: THE MAN, THE MYTH, THE LEGEND.
Charlie Puth spent the day in the Big Apple to announce the lineup for Z100's Jingle Ball.
The 24-year-old gave fans a little preview performance to get people pumped for the big show at Madison Square Garden in December.
Elite Daily was able to sit down with Charlie Puth (before he killed it on stage) and get the inside scoop on his We Don't Talk Tour and all things Jingle Ball.
YUP, we got the goods.
The first question I had for Charlie was OBVIOUSLY about Selena Gomez.
I mean, the two collaborated on "We Don't Talk Anymore," and it went viral. I dare you to listen to it and not belt out the lyrics.
It's catchy AF and makes me want to drunk text my ex until he blocks me.
So Charlie, what was it like to work with the beautiful and talented Selena Gomez? Did you faint? Did you guys fall in love? Give us the scoop, yo.
Charlie told me,
It was very fun! A lot of people don't know this, but originally the song was supposed to be just me…
UMM, what? Without Selena? Just you? Explain. What made you pick Selena to join the track?
I was hearing it and FaceTiming her and kind of half listening to the song at the same time... and I was hearing her voice…. and the way I produce records is I can hear the singer's voice and kind of place them into a melodic pocket… I was hearing her talk and I was like, 'Wow, your voice... I'm hearing it in my head and think it would sound really good in this record I'm working on.'
OK, so what happened?
She tried it and it sounded great so I was like, 'Let's just make it a duet.'
Aw, that's actually pretty sweet. I guess Selena has that effect on people.
So Charlie, did you ever consider anyone else? Meghan Trainor? Alicia Keys?
Just her, it just happened in the moment. It wasn't like 'See You Again' where Chris Brown cut it. It was just Selena.
AWWWWWW. I love that. BFF goals. So, could Charlie see himself working with Selena Gomez again in the future? He said,
Yeah, absolutely.
Hellz yeah, another collab would be bomb. Please make it happen!
Toward the end of September, E! News shared Selena Gomez might make a possible appearance in Charlie's tour, but nothing has been confirmed.
Charlie explained,
She might show up... I know she is taking time off right now, so I want her to focus on taking the time off that she needs.
The Revival singer has been taking off time to focus on her health so the idea is exciting, but not promising.
Hopefully Selena feels better soon! And Charlie, good luck at Jingle Ball.
In case you missed the NYC lineup, everyone from Justin Bieber to Fifth Harmony will be in attendance. There's also a special appearance by Niall Horan, so 1D fans, get pumped.
Cool, well, BRB. Gonna go spend all my money on tickets instead of paying my rent. Bye!
Citations: Will Selena Gomez Make an Appearance on Charlie Puth's Tour? (E! News), Z100 Jingle Ball Lineup (IHeartRadio)