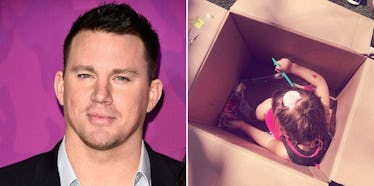 Channing Tatum's Daugther Made Him The Most Perfect Birthday Present Ever
Getty Images/Instagram
Channing Tatum turned 37 on Wednesday, and from the looks of it, he had an adorable birthday celebration.
Earlier this week, Jenna Dewan Tatum stopped by "The Ellen DeGeneres Show" and dished on the opening of Channing's "Magic Mike Live!" Vegas show, how they actually started dating while filming "Step Up" and their 3-year-old daughter Everly.
When Ellen asked what Jenna was planning for her husband's birthday, she replied,
He is so hard because every year, he just... he wants something and he gets it. So this year... I'm taking him on an RV trip and we're packing up the family and we're going. We don't even really have a plan... we're not going cross-country, we're going somewhere where trees are.
That sounds like an ideal birthday trip to me, but I'd also go anywhere in an RV if it involved Channing Tatum -- trees or no trees.
When you're a dad of a 3-year-old, though, no birthday is complete without a handmade (or hand-baked) present from your kid.
On Wednesday, Jenna shared a photo of a pretty perfect-looking cake signed with love from Evie, captioning the Instagram,
Happy birthday daddy
All I'm going to say is that is one talented kid. She has a culinary career in her future.
Channing and Jenna famously keep Everly, who will turn 4 at the end of May, away from the spotlight, only posting the occasional snapshot from a distance.
We did get a few glimpses of the family of three last Father's Day, though. Jenna shared a sweet candid of Channing and Everly dancing.
She also posted some snaps of the three goofing around at Nick Zano's baby shower.
This week, the 36-year-old actress and mom revealed Everly has started to really pick up a few things from her famous parents, namely, their dance moves.
She told Ellen,
There's been a couple times where she's been like, 'I'm dancing like Mommy and Daddy!' We're saving up a therapy fund for when she's older.
Just wait until she sees "Magic Mike" for the first time. The therapy fund is probably a good idea.