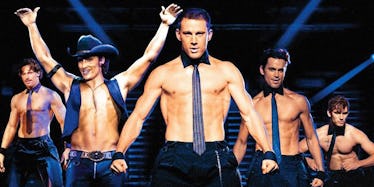 10 Times Channing Tatum Was The Hottest Man To Walk The Face Of This Earth
Warner Bros
If you are not into objectifying Channing Tatum on his 37th birthday, then THIS ARTICLE IS NOT FOR YOU.
Bless his abs him.
Channing has been dancing his way into our hearts and sexual fantasies almost as long as I can remember wearing training bras. And, if today isn't the perfect day to celebrate his impeccable dance moves, truly stunning physical stature and honest-to-God great personality, then I don't want to be wearing a bra at all... or something.
From being open and honest about his past as an exotic dancer, to his continuous outpouring of love for his wife Jenna Dewan-Tatum, to all the ways he makes fun of himself... Channing: It's safe to say you're one hot dude.
Here are ten times Channing was almost too hot to handle.
That time we were all introduced to him in the movie "Step Up" and he rocked tank tops like it was his job.
And when he just danced the day away with his wife-to-be for the rest of the movie.
Plus, like, all the time's he's been so obsessed with his baby mama ever since.
Oh, of course then "Magic Mike" happened.
Oh, oh, oh! THEN "Magic Mike XXL" happened!
Then there was that time we found out he was really hilarious in the movie "21 Jump Street."
And the time he had a ball with an interviewer who had to communicate via technology.
He also stole our hearts when he lip sync battled his wife and dressed as a gorgeous Beyoncé.
AND that time he was a perfect Disney princess.
And of course, this time he just gave it to us straight.
Channing, I'd tell you I wish you 37 more years of 37 more abs, but you don't need it. You have enough abs to last you, and all of us, the rest of our lives.
Happy birthday, you sweet, sweet prince.