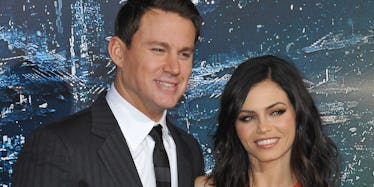 Jenna Dewan Shares Adorable Pics Of Channing Tatum And Their Daughter Everly
Shutterstock
Prepare your loins for Channing Tatum's Father's Day updates courtesy of Snapchat and Instagram. They're a friggin' doozy.
The "Hail, Caesar!" actor, wife Jenna Dewan Tatum and 3-year-old daughter, Everly, spent Saturday celebrating Nick Zano's impending fatherhood at the actor's baby shower.
Guests were provided with flower crowns and posed for photos.
On Sunday, Jenna shared an action shot on Instagram of Everly decked out in H-to-T princess gear, dancing with her dad on Father's Day.
Jenna's ode to her baby daddy was just as touching as the one Channing shared in her honor on Mother's Day last month.
Oh, what the rest of us wouldn't give to hear Channing Tatum call us "the beautiful, sexy, funny, flawed creature I fell in love with."
The Tatums cuddled up together to enjoy some "Finding Dory" to complete the perfect family weekend.
Once again, Channing Tatum has made Father's Day an emotionally and physically perplexing time.
Do we want him to make sweet love to us or adopt us? The world may never reach a consensus.
Citations: Channing Tatum, Jenna Dewan Share Rare Picture of Daughter Everly at Nick Zano's Baby Shower (Entertainment Tonight)