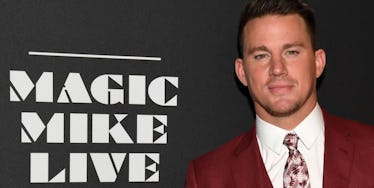 Channing Tatum Gave Fellow Actors Stripper Names And Now We Want One, Too
Getty Images
Everyone knows the basic formula to produce your very own stripper name involves the name of your first pet and the street you lived on as a child.
Say hello to Frankie Bay 10th. Holla at me, felllllllllas.
While that strategy is pretty common knowledge, it seems stripper maestro Channing Tatum has a much different approach to crafting new exotic dancer personas.
During promotion for "Magic Mike Live!" (only the best thing ever to hit Las Vegas and the world), Tatum talked with E! News and ran through a quick list of his fellow Hollywood actors, giving each their very own stripper alias.
And yes, it's as magical as you'd expect.
Tatum's round of "Name That Stripper" starts off with none other than "Baywatch" star Zac Efron.
Naturally, his chiseled self gets branded as "Rusty Spark Plug." Because plugs.
Then, the stripper/model/actor/all-around angel is pretty quick on the draw, creating names for these other male celebspretty quickly.
We've got George Clooney as "Debonair Dog Leg," Steve Carrell as "The Hero's Bollocks," and Jonah Hill (his "21 Jump Street" co-star) as "The Unicorn."
Tatum gets caught up a little once presented with an image of singer Harry Styles performing at the mic, but he seems to rebound flawlessly with just about the best name ever.
Anyone want a lap dance from "The English Muffin"?
Other highlights from the long-led list of newfound strippers are Chris Pratt as... well, "Pratt," Nick Jonas as "Grabby McGrabbington" because his hand always seems to find its way to his crotch and Kanye West as the appropriately named "Mr. West."
By the video's end, Tatum doesn't award himself with a crafty new stripper name, but honestly, he doesn't need to.
"Mike" suits him very well, and I will be forever grateful for everything the "Magic Mike" franchise has given me...
...which is mostly pictures of half-naked men to hang around my office cubicle.
Citations: Channing Tatum Gave Male Celebrities Stripper Names & They're Hilarious (Refinery29)