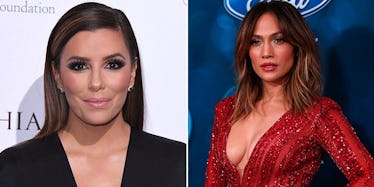 17 Smoking Hot Celebrities We'd Still Date, Regardless Of Our Age Gap
REX/Shutterstock REUTERS
Last week, one of my colleagues put together an interesting list.
It went along the lines of this: "16 Silver Foxes We'd Date, Even Though They're Double Our Age." I get where she's coming from, too.
There are certain older women (especially famous women) who I'd definitely want to date. The only difference? I wouldn't be doing it "even though" I'm half their age, as if it's some concession.
Nah, I'd be interested specifically because I'm half their age.
In other words, guys in their 20s definitely find the idea of older women exciting, especially if we're talking about these 17 sexy celebs.
1. Eva Longoria, 42
If there's one consensus that can bring the country together during these polarizing times, it's this: Tony Parker's a dumbass.
2. Nia Long, 46
J. Cole said it best in his song "No Role Modelz,"
My only regret was too young for Nia Long.
3. Demi Moore, 54
I'm sure if Ashton Kutcher could go back in time, he'd do the same thing all over again.
4. Cindy Crawford, 51
Still a model. Still a fox.
5. Sandra Bullock, 52
... And she's single? Hell yeah, she's on this list.
6. Sanaa Lathan, 45
Fine wine, guys. Fine wine.
7. Penelope Cruz, 42
There's no expiration date on those eyes.
8. Gabrielle Union, 44
I almost forgot to put this woman on the list because she somehow looks like she's younger than me.
9. Angelina Jolie, 41
No amount of baggage could make me forget how many times she was named "The Sexiest Woman Alive."
10. Sade, 58
Literally no one has even figured out Sade, I'm sure. Like, I wouldn't even know what to do with this, but I know I want something to do with this.
11. Sarah Silverman, 46
The only downside here is that she could roast you to death.
12. Vanessa Williams, 54
... Especially if she's anywhere near as aggressive as Wilhelmina Slater.
Remember that scene in "We're the Millers"?
Yeah, that one. That cemented Jennifer Aniston's place on any sexiest celebs list for five years. Until 2018, her place is undisputed.
14. Salma Hayek, 50
You could put Salma Hayek next to the word "sultry" in the dictionary, and people would get it.
15. Christie Brinkley, 63
Christie Brinkley appeared on an SI Swimsuit cover at 63 years old, and still looked as good as her daughters. I feel like I don't even need to provide further explanation.
16. Halle Berry, 50
You can make all the wig jokes you want, 2017 Halle Berry still looks good enough that she reminds me of "Monster's Ball" Halle Berry. I don't give a damn what she had on her head at the Oscars.
17. Jennifer Lopez, 47
JLo found a way to keep this figure past 40. She is a goddess, end of story.