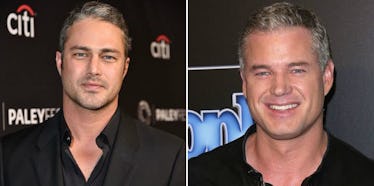 16 Silver Foxes We'd Date, Even Though They're Double Our Age
REX/Shutterstock
There's a certain confidence and sexiness a silver fox exudes that sets him apart from the rest of the mammals in the dating jungle today.
Irresistible charm, along with complete and utter hotness are all included in a silver fox's package.
It's pretty difficult to deny our attraction toward them… and why would we even want to? It's as if their gray hair makes them sexier than they already are.
No matter the age gap, it's clear most of us would still be down to date them anyway.
Here are 16 silver foxes we'd go out with even if they're double our age, because #YOLO.
1. Eric Dane, aka "McSteamy"
It's safe to say how this sexy TV plastic surgeon got his nickname.
I lost my heart to this silver stud the first time he made his entrance on "Grey's Anatomy." He's straight up BANGING.
2. Patrick Dempsey, aka "McDreamy"
Don't even get me started on McDreamy, because everything about him is just OH-so-naturally dreamy.
3. Taylor Kinney
This sexy on-screen fireman can save me any day.
4. Jeffrey Dean Morgan
I simultaneously bawled my eyes out during "P.S. I Love You," while simultaneously thinking, "DANG, Jeffrey Dean Morgan is HOT DAMN SEXY."
5. Rick Fox
HELLOOOOOOOOO, Rick Fox. It's only fitting Rick FOX, is a silver FOX.
6. Michael Keaton
Some guys lose their hotness with age, but Michael Keaton has aged like damn FINE wine.
7. Kevin Costner
Someone alert the fire department, because it's getting too steamy to handle in here.
8. George Clooney
9. Anderson Cooper
10. Idris Elba
Oh hey there, Idris.
11. Hugh Grant
12. Esai Morales
13. Dermot Mulroney
UGH, I don't think there's anyone who didn't fall in love with him when he was Julia Roberts' partner in crime (and low-key love of her life) in "My Best Friend's Wedding."
14. Richard Gere
Richard Gere comes with the territory… he's pretty much the OG silver fox. How can you not want to date him after all of the romantic AF movies he's been in?
15. Joe Manganiello
Sofia Vergara's hubby is a TOTAL bae.
16. John Slattery
Otherwise known as Roger Sterling on "Mad Men," it's safe to say people are going mad for this silver fox.
It's clear some men just get better with age.
Silver foxes FTW.