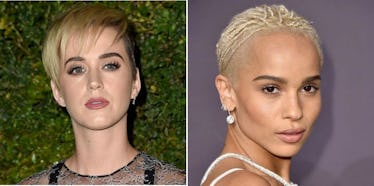 7 Gorgeous Celebrity Hairstyles That Will Inspire Your New Spring Cut
Getty Images
The seasons changing is as good an excuse as any to switch up your style and change looks for the warmer months.
My favorite way to do that? Changing my hair of course! Flipping up my locks was my easiest and most gentle form of rebellion as a teenager, and way less permanent than getting a tattoo.
Luckily, with social media these days ,the inspiration is totally endless, and we can easily look to our celeb favorites for inspiration.
I took on the totally strenuous, incredibly difficult and not at all fun task of combing Instagram to find celebrity inspo, and came up with seven of my favorite looks for Spring.
Here are seven celebrity hair styles to inspire your next cut.
Katy Perry's pixie cut
If you're ready for a big change, minimal fuss and zero-point-zero drying time, this look is for YOU.
Take a page out of Katy's book and roar with buzzed sides, piecey texture and a bottled blond look.
Here, Selena's new shag gives off some major rock and roll vibes -- looking a little wet and a LOT sexy.
This kind of cut is a great way to totally change up your look and get rid of any excess length or weight, without losing any of the sultry vibe that usually comes with long hair.
Kim K's straight and sleek lob
If you're looking for a change but not TOO much of a change, look no further than the latest classic -- the lob.
Here, Kim K keeps her signature, sleek Kardashian-vibe but tweaks it just enough for the finished look to feel fresh and new by losing some length and maintaining blunt ends.
Zoe Kravitz's shaved side style
Peep more of this look in her her role, Bonnie, on "Big Little Lies" and snag some major inspo from the actress' Instagram.
Want all the bad-assery of a shaved head and the ease of a pony tale? Great news. You can have both.
Now that the seasons are getting warmer, no use wrestling with the gorgeousness God gave you.
Wake up, wash and go like our forever FLOTUS queen did here, and embrace your natural bends, waves, curls, kinks or straight locks.
While the youngest Kardashian has been rocking this cut for some time, the look is still new.
Keeping length in the front and OOMPH in the back is the perfect merge of class and party, making this look as versatile as it is hot. Bonus: You can still pull the top up and back and have loads of styling options to switch the cut up.
Allison William's latest blonde
Dear GOD did this rock all of us hard. Allison Williams making the switch from her well-known and beloved Marnie brown to this bombshell blonde definitely gives that saying "blondes have more fun" some ammo.
Plus, changing the color of your hair is way easier to correct if it goes poorly than cutting it. If you're looking for a wild change with an "undo" button, this is your next move.
Pick your poison and rock the heat, baby girls.