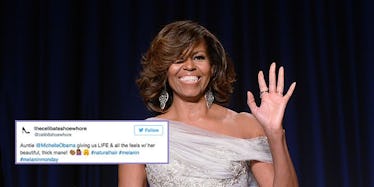 The Internet Is Losing It Over This Photo Of Michelle Obama With Natural Hair
REX/Shutterstock
Sigh.
It's not like we (OK, maybe just black women) haven't always wanted to witness our former FLOTUS, Michelle Obama, step out sporting a luxurious natural hairstyle.
The natural hair movement has swelled over the last five years, with more black women opting to abandon their straightening perms and flat irons to let their natural hair take center stage.
Since natural hair is popping -- and well, so is Michelle Obama -- we just put two and two together and thought: Damn, wouldn't that be magic?
We even implored the natural hair gods (OK, Photoshop), to help us take the fantasy in our own hands. In case you missed it, this was Black Twitter's dream for Michelle Obama years ago:
Just...look at the glory!
Dreams are now reality. This photo of Michelle Obama surfaced on Twitter:
With her hair tied back in a puffy ponytail, her "I'm running errands and fabulous" polka-dotted headband and a grey everywoman tank-top, Mrs. Obama is still as regal and relatable as she was throughout her eight-year run as First Lady.
She's been natural for years, but this is our first time seeing it.
And Twitter is LIVE.
It's not that Michelle Obama's usual hair style choices have not already been beautiful.
She has a great track-record for looking drop-dead gorgeous.
It's also not that we want to reduce her down to mere looks. The double-degree'd former lawyer and First Lady is certainly so much more than hair styles and and a debonair wardrobe.
The source of excitement is simply because seeing the already pro-black and pro-woman show off her natural curls just adds to the list of reasons why so many black women see themselves in her and were proud to call her our First Lady.
For years, having natural hair has been stigmatized and deemed unattractive because it doesn't fit white beauty standards.
Women with natural hair and braids who work in various industries have not gotten jobs for wearing their hair the way it grows out of their heads.
Natural hair has been stigmatized and deemed unattractive.
We also deal with other minor struggles like locating hair stylists who care to work with our kinky curls and keeping a swat-hand ready for people daring to pet our hair like it's an animal they feed.
Hence, the need for Solange Knowles to create a record entitled, "Don't Touch My Hair."
But this natural hair journey is worth it because we get to be exactly who we are by literally connecting with our roots.
Knowing that Michelle Obama knows our experience firsthand just makes us all the more obsessed.