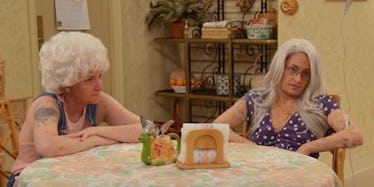 The Cast Of 'Girls' Looks Unrecognizable In Hilarious 'Golden Girls' Spoof
YouTube
No one knows how "Girls" will end, but, thanks to Jimmy Kimmel, we now have an idea what the series' inevitable reboot will look like.
On Wednesday's episode of "Jimmy Kimmel Live," the stars of the HBO series — Lena Dunham, Allison Williams, Zosia Mamet and Jemima Kirke — debuted geriatric versions of characters Hannah Horvath, Marnie Michaels, Shoshanna Shapiro and Jessa Johansson.
The "Golden GIRLS" sketch artfully meshed the voice-of-a-millennial-generation show with the series that made us all wish we were cheesecake-hovering retirees.
The full sketch also features Jimmy as Hampton, Hannah's aptly named son who works as a stripper named Officer Sausage, and Andrew Rannells as one-liner king Elijah Krantz, who hasn't aged a day thanks to "Oil of Olay and boxed wine."
The girls of "Girls" have a future full of cheesecake and gorgeous wigs to look forward to, even as their final season approaches its last two episodes.
In an interview with the Hollywood Reporter, Lena admitted she and showrunner, Jenni Konner, have mapped out the girls' lives far past the finale.
She said,
Once we knew that we had 20 episodes left [split over seasons five and six], we were like this bullet train. And we'd been talking about the end for so long. I mean, before the show even premiered, Jenni and I lay in bed after our South by Southwest screening talking on the phone about the characters' whole lives. We were literally like, 'She'll probably die this way.'
Still, once the final scene was shot, it wasn't just Lena who got emotional.
She recalled,
I looked up at the trees and smelled the air, and it was one of those moments where I was like, 'I want to remember exactly what this was.' Then Jenni called cut, and literally men in their 60s were weeping. It was really special, and since I hated both high school and college, I was like, 'Oh, that must be what it felt like when people were sad.'
"Girls" superfans can cling to this Kimmel sketch until the "Girls" movie comes along, because you can bet your sweet, ironically tattooed ass it's coming.
Lena said she'd want to "leave enough space so that we are finding [the characters] in a super different place than we left them," but insists, "We're doing the movie."
Sounds like a promise.
Citations: Lena Dunham goes nude in Golden Girls spoof as she and her HBO castmates perform hilarious skit for Jimmy Kimmel Read more: http://www.dailymail.co.uk/tvshowbiz/article-4385320/The-Girls-cast-spoof-Golden-Girls-Jimmy-Kimmel.html#ixzz4dTxqn3FU Follow us: @MailOnline on Twitter | DailyMail on Facebook (Daily Mail)