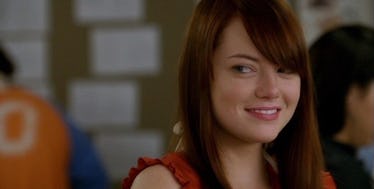 7 Celebrities You Probably Forgot Were In Your Favorite Childhood Movies
The Apatow Company
All of our favorite celebrities had to start somewhere. You probably didn't even notice they were in some of your favorite childhood movies. Get ready to relive some of these amazing moments.
1. Emma Stone In Superbad
Superbad was Emma Stone's first movie. Remember when Jonah Hill fell face first into her and practically broke her nose? Ah, that was good stuff. Her role wasn't huge, but 10 years later she went on to win an Oscar.
2. Justin Timberlake In Model Behavior
Model Behavior is perhaps one of Justin Timberlake's finest roles. He plays the hunky, male model, Jason Sharpe. Although the movie centers around the classic plot of people who look alike and switch places, knowing J.T. is mixed in makes it that much better.
3. America Ferrera In Gotta Kick It Up
Yes, we all love America Ferrera in biggies like Sisterhood of the Traveling Pants and Ugly Betty, but before that she was in this gem of a movie on Disney Channel. Gotta Kick It Up was about a dance team who tried to beat the odds.
This is legit one of my favorite childhood movies. I highly, highly recommend giving it a watch.
Bonus: This movie also stars Camille Guaty from Cake, Ghosts of Girlfriends Past, and Dexter.
4. Megan Fox In Confessions Of A Teenage Drama Queen
Confessions of a Teenage Drama Queen is a Lindsay Lohan classic, but did you know Megan Fox was in it too?
She played the ultimate mean girl who tried to keep Lola from achieving her dreams. Lohan and Fox also have an epic dance battle.
5. Kenan Thompson In Heavyweights
Heavyweights is one of the best comedies of all time, hands down. Kenan Thompson is a Saturday Night Live superstar now, but back then he was just a funny kid trying to Perkiscize.
6. Brie Larson In Right On Track
Remember when Brie Larson just seemed to pop up and win her Academy Award for Room? Well, she's been acting for a long time. I definitely didn't remember that she starred in the Disney Channel movie Right On Track.
First, she conquered the world of drag racing and then moved on to everything else.
7. Emma Roberts In Unfabulous
OK, this wasn't a movie, but I just want to remind you Unfabulous existed on Nickelodeon. Jake Behari was, like, so cute. Remember when Emma sang a song about him and rhymed his name with calamari? Pretty good stuff.
This list made me nostalgic AF. It's good to remember we all have to start somewhere.