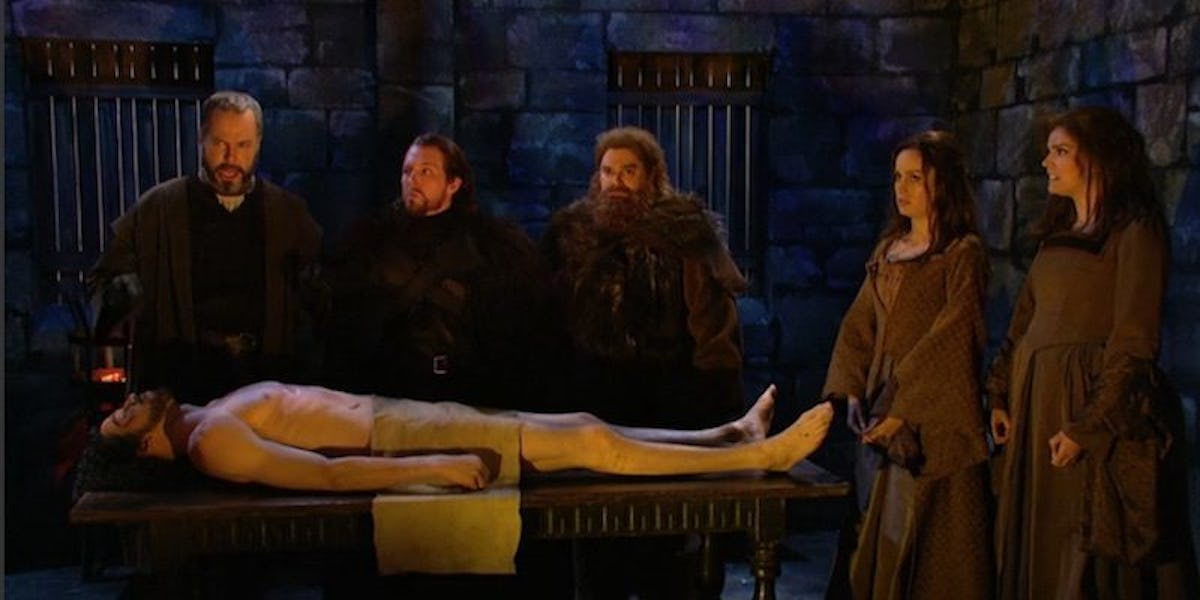 This 'Saturday Night Live' Spoof Of 'Game Of Thrones' Is Actually Perfect
Hulu
After what felt like decades of winter, the great reveal about the life or death of Jon Snow occurred in the most recent episode of "Game of Thrones."
So, the cast members of "Saturday Night Live" decided to spoof not only the story of that particular episode itself, but also how long everything seems to take in the "Game of Thrones" world of Westeros.
Of course, we all expect for the suspense to be drawn out as long as possible in any TV show, movie or book, but it's not the same when you're talking about a show as epic and huge as "Game of Thrones" and a character as important as Jon Snow.
Kit Harington, who plays Jon Snow, literally apologized over the Jon Snow fiasco and all the heartache it caused.
So, I'll conclude all that context with this: The skit from "SNL," starring cast members Kate McKinnon, Kenan Thompson and Cecily Strong as well as actress Brie Larson, gives "Game of Thrones" its very hilarious just desserts over how long the show took to ultimately conclude the fact of whether Jon Snow lives or dies.
For the "GoT" fans, I guarantee you'll love it. I think it's enough to say McKinnon plays Melisandre. For the people who don't watch the show, you'll still love it because Kate McKinnon is actually a comedic genius.
Citations: Saturday Night Live Lampoons Game Of Thrones For Making Us Wait That Long For That Big Jon Snow Reveal (BroBible)