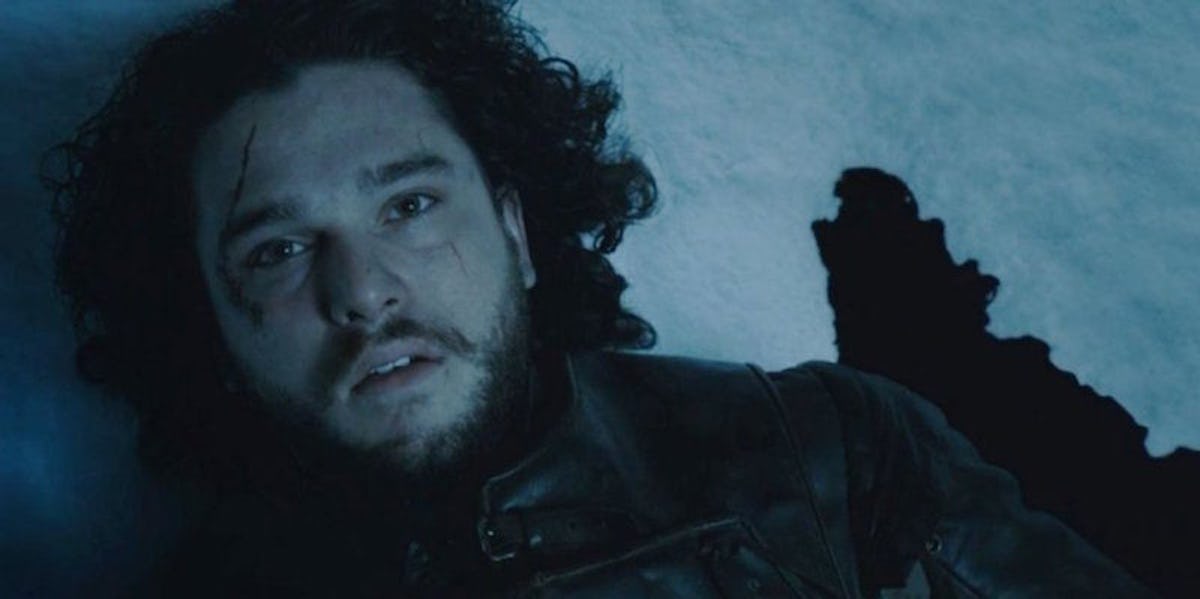 Jon Snow Has A Message For Fans After Last Night's Insane Episode (Spoilers)
HBO
Jon Snow is sorry. Also, he's gorgeous, but still mostly sorry.
Spoiler alert. Big freaking spoiler alert. If you watch "Game of Thrones" but didn't see last night's episode, I strongly suggest you close this article and then set your computer on fire and throw it out of a window just to be safe.
Those uninformed FAKE fans gone yet? Good.
WHHHHHHAAAAAAATTT?!?!??!?!! JON SNOW IS BACK?!?!?!?!! DA'HELL YOU DOING TO MY EMOTIONS, HBO GO?!?!?! THANK THE LORD HE IS BACK, BUT JEEZ LOUISE!
YOU CAN'T JUST KILL A FAN FAVORITE LIKE THAT AND THEN HAVE THAT RED-HEADED, SECRETLY OLD LADY REVIVE HIM TWO EPISODES LATER WITHOUT GIVING ME SOME FLIPPIN' WARNING!!!!
I'm not angry. I'm just shaken is all. Sorry for yelling.
For those of you who don't watch the show but are still reading for some reason (WHO ARE YOU?), I guess a quick explanation is needed. Basically, without explaining thousands of years of backstory, "GoT" ended last season with the savage murder of Westeros' answer to Brad Pitt, Jon Snow.
The former Lord Commander of the Night's Watch had a bunch of dudes take turns reverse Caesaring him -- a phrase I invented about getting stabbed in the front -- leading to the last shot of Snow in season 5 being him lying dead on the ground.
After months of denial and speculation, last night, our prayers were answered and Jon Snow was officially returned to us thanks to some voodoo by Melisandre.
Kit Harington feels terrible for putting you through this and apologized to fans via Entertainment Weekly. He said,
Sorry. I'd like to say sorry for lying to everyone. I'm glad that people were upset that he died. I think my biggest fear was that people were not going to care. Or it would just be, 'Fine, Jon Snow's dead.' But it seems like people did have a, similar to the Red Wedding episode, kind of grief about it. Which means something I'm doing — or the show is doing — is right.
D'awwwww, Kit ya'big softie! We forgive you! (never do this to us ever again).
Citations: Game of Thrones Kit Harington breaks his silence (Entertainment Weekly)