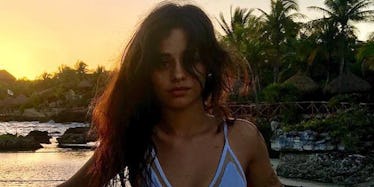 Camila Cabello Turns Up The Heat In Sexy Bikini Photos On Her Tropical Vacay
Instagram
If you're a Fifth Harmony fan, you're well aware of the fact Camila Cabello has left the band.
The once-five member group caused a stir after 19-year-old singer Camila Cabello called it quits on December 18. Of course, everyone began making the same joke. Fifth Harmony?! More like FOURTH Harmony.
Judging by this photo, Camila wholeheartedly agrees.
After everyone got that out of their system, more details began to spill about why Cabello left in the first place.
Rumors swirled that Cabello wanted nothing to do with attending group therapy sessions and special meetings organized to map out the group's future.
Perhaps most of the drama surrounding the 19-year-old singer's departure stemmed from the fact the remaining group members issued a public statement from official Fifth Harmony social media accounts.
The statement basically said that the remaining members of Fifth Harmony -- Normani Kordei, Dinah Jane, Ally Brooke Hernandez and Jauregui -- had just been informed about Cabello's departure.
Meanwhile, Camila says she had spoken to her bandmates way before the news ever broke. She then issued a statement herself to address the fabricated news, writing,
The girls were aware of my feelings through the long, much-needed conversations about the future that we had [during] the tour. Saying that they were just informed through my representatives that I was 'leaving the group' is just not true.
Check out the full statement here.
So, what exactly has Cabello been up to since leaving the popular girl group? Causing everyone to stop and stare, of course.
Camila Cabello shared two new photos from her recent trip to Cancun. These might be too sexy for your eyes.
I think it's safe to say Camila Cabello has left all of the drama with Fifth Harmony in 2016 where it belongs.
She simply captioned each photo with "I LUV CANCUN."
Yeah, I love Cancun, too, Camila. And clearly, Cancun loves you back.