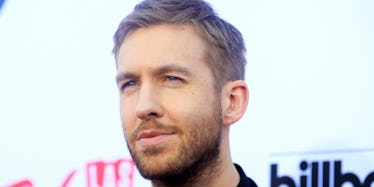 Calvin Harris Tried To Convince Us 'My Way' Is About A Grocery Store
REUTERS
Is Calvin Harris' new song about Taylor Swift or not?
That's the number one question everyone's mind following the Scottish DJ's latest music release titled "My Way."
While some of speculated that Calvin Harris might be trying to settle his feud with Swift by liking her posts on Instagram, others believe he could be calling her out on his new song.
If you're Calvin Harris, you already expected people to jump to conclusions regarding the song's hidden meaning. Now, Harris is adamant on clearing up the ongoing rumors.
During a new interview with iHeartRadio, the 32-year-old musician recently revealed,
[The] song's kind of about breaking out of a situation that you thought was a good thing. Then you're way more comfortable out of it. And it could be anything.
This stale explanation regarding the song's meaning just wasn't enough. It seemed like Harris was purposely being vague, leading fans to believe the song really is about Taylor Swift as we all expected it to be.
I mean, are we wrong? In the past, Calvin Harris hasn't held his tongue about Taylor's controlling ways.
Maybe he really is calling out Taylor by saying that he wants to do things his way once and for all (hence the song title), but maybe not.
In a second interview regarding his latest music release "My Way," Calvin Harris sat down with Elvis Duran for the Z100 Morning Show and was a little less shy to reveal the concept of the track. Calvin stated,
It's breaking out of a situation. I thought of the concept years ago, when I left Safeway. I was trying to move to London and I was working in the store in Scotland, I was trying to go on and make music for a living but I couldn't because I didn't have any money. I was like, damn this grocery store! If I could break out of this I could have enough time to work on music and get good.
LET ME GET THIS STRAIGHT... Calvin Harris expects us to believe "My Way" is about his dark past working at a damn grocery store and not about Taylor?
Please.
Regardless, we'll just have to take his word for it. Either he really was inspired by his lackluster job at Safeway or he's really just trying to squash the beef with Taylor by leaving her name out of it.
Calvin, who is originally from Dumfries, Scotland, continued,
It's hard to get a job in my town. You get brainwashed into thinking that's as good as you're going to get, and then you have to realize that actually there's a whole world out there. When you're stuck in that situation, you can't see that. You don't think that you're going to become anything! That was just the concept that was in the back of my mind, but I had no idea how to put that into words until very recently.
So, after several years of being rich, famous and dating Taylor Swift, Calvin Harris JUST now realized that he's got it made...
YOU'LL HAVE TO EXPLAIN THESE LYRICS THEN (in great detail).
Why wait to say, at least I did it my way? Lie awake two faced, but in my heart I understand… I made my move and it was all about you. I feel so far removed. You are the one thing in my way.
Right, Calvin. Riiight.
We'll just have to live with the fact that Calvin and Taylor will never, ever get back together -- unless they rekindle their flame in wax figure-form, of course.
Citations: Calvin Harris Reveals Meaning of Song 'My Way' After Fans Speculate It's a Taylor Swift Diss (US Magazine)