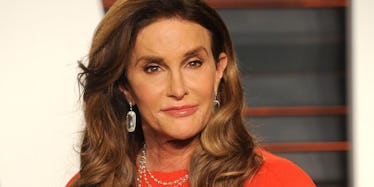 Caitlyn Jenner Posted Insta About Kim K After Being Shaded For Insensitivity
REX/Shutterstock
After Kim Kardashian was allegedly robbed at gunpoint during her stay at a hotel in Paris, the entire Kardashian family has been mostly silent on social media -- except for Caitlyn Jenner.
If you're used to keeping up with the Kardashians on a daily basis, you know that they're usually flooding social media networks nearly every second of the day with photos, videos, promotional material and lots of selfies.
So far, the only member of the family to speak out on social media is Caitlyn Jenner.
The 66-year-old star received waves of criticism from all angles after she posted a photo of her and Kylie Jenner at a car show instead of speaking out about Kim being robbed.
The photo shows Caitlyn and Kylie posing next to one of the original Batmobiles.
Here's the photo.
Fans went insane over the post and called Caitlyn Jenner insensitive and careless due to the fact that Kim Kardashian had JUST been held up at gunpoint in Paris and robbed of nearly $10 million in jewelry.
In addition, the incident has concerned people who typically aren't even fans of Kim. This raised further questions about why Caitlyn Jenner would post on social media without addressing the issue.
Now, Caitlyn is looking to put the harsh criticism to rest with another Instagram post dedicated to Kim.
The photo caption reads,
Love my girl! After hearing the full story, I'm so thankful she's okay. It's a reminder for us all to be careful in the uncertainty of this world.
Here's the post.
Personally, I don't think Caitlyn Jenner had any intentions of being insensitive toward Kim Kardashian and the robbery situation.
If anything, the woman was probably trying to give the family its privacy during this difficult time -- and that didn't mean she was going to stop posting on social media.
Regardless, she's officially spoken out about the situation...
THERE. Are you happy, haters?!