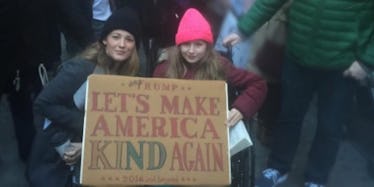 Blake Lively Shares Emotional Post On Why She Attended The Women's March
Instagram
Blake Lively wants the world to know why she is marching.
On January 21, millions of women and allies across America — and the world — marched together in unity against the current anti-women social climate.
Washington DC, New York, LA, Houston and a handful of other cities all welcomed a record-breaking amount of protestors hoping to spread a powerful message, which was specifically targeted at the Trump White House.
Blake Lively was among those marching on Saturday, and she made sure people knew she was supporting the cause.
She posted the following shot to Instagram with another supporter holding a sign that said, "Trump Let's Make America Kind Again."
She captioned the post,
I marched for my daughters, for my friends, for strangers, for myself, for Phoebe here in this picture who I met as she motivated everyone she came across. My march wasn't driven by hate. It was rooted in a very simple fact — we are all equal. I believe everyone can agree on that. Thank you to everyone who marched all over the world. I felt so hopeful and deeply grateful.
Blake was far from the only celebrity to show her support. The rally itself featured a speaker line-up stacked with some of Hollywood's biggest A-listers.
The rally was such an inspirational and important event, even Taylor Swift decided she needed to send some love to everyone marching.
Taylor has historically shied away from making any political statements, so this is *COUGH* relatively *COUGH* a pretty big deal.
Ashley Judd's speech during the rally included some weird rap thing that shockingly worked.
Madonna also came under fire after comments she made during her speech involved jokingly saying she wanted to blow up the White House.
On January 22, she took to Instagram to clarify she is not a violent person and her comments were taken out of context.
LEAVE MADONNA ALONE!
Citations: Blake Lively Wrote a Powerful Post About Why She Marched (Elle)