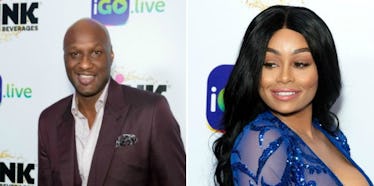 Blac Chyna, Tyga, And Lamar Odom Partied Together And People Are Freaking Out
Getty
Things have slowly been starting to settle down with the Kardashians lately. Everyone has been doing their own thing and living life following the Rob Kardashian and Blac Chyna drama. Then, BOOM! we're hit with pictures showing Blac Chyna, Tyga, and Lamar Odom partying together. It wasn't exactly a gathering of all the Kardashian exes — it was a night to honor the I.Go Live App Launch — but it very well could have been. The party was on July 26 in Los Angeles and looked fab.
You know that nightmare of all your exes becoming friends and mutually hating on you together? This is kind of like that, except way worse. Luckily, none of the Kardashians or Jenners were in attendance.
Blac Chyna, Tyga, and Odom all arrived separately to the event at the Beverly Wilshire Hotel. They were dressed to impress and looked very glam.
Blac Chyna arrived with a girlfriend wearing a sparkly blue, sheer dress with a plunging neckline. When she was asked about the dating rumors swirling around her and singer, Mechie, she answered, "Have a good day." That doesn't answer the question, Chyna!
She wasn't the only one grilled about her dating life. Tyga brought a group of guy friends to the event, and was able to dodge questions about his dating life as well. That Tyga is a tricky one.
With Tyga and Chyna out of the way, that leaves Lamar Odom. The basketball player arrived alone and looked sharp in a purple three-piece suit.
Although the three didn't attend the event together, they did take time to be friendly towards one another. According to reports by E! News, Chyna and her ex, Tyga, were very cordial when they said hello and hugged. Later, Chyna met Odom in the bar area where they posed for pictures.
All in all, it seems like it was a pretty innocent night, even if the three of them are all tied together in a very, very strange way — through the Kardashians. But aren't we all, really?
Blac Chyna and Tyga used to date, and even have a son, King Cairo, together. After the two split, Tyga started dating Kylie Jenner, the youngest member of the family. He even bought her a brand new Ferrari for her birthday. Shortly after, Chyna started dating Jenner's brother, Rob Kardashian, in early 2016. The two had their daughter, Dream Kardashian, together in November 2016. Then, just weeks ago, Rob went on a revenge porn posting spree of Chyna on his Instagram account on July 5.
Years earlier, before Chyna or Tyga ever made their way onto the Kardashian-Jenner scene, Odom was married to Khloé Kardashian. After years of on-and-off divorce filings, Khloé and Lamar's marriage ended in October 2016.
Wowza, thinking back on all the ways those exes are connected made me tired. Now that this very tangled web is starting to come unraveled, maybe everyone can go on living happier, healthier lives.
Please?