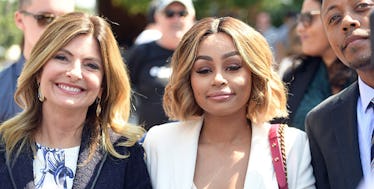 Everything You Need To Know About Blac Chyna's Lawyer, Lisa Bloom -- EXCLUSIVE
Getty Images
Unless you've been living under a rock, then you know all about the nasty social media posts Rob Kardashian shared about the mother of his child, Angela White, better known as Blac Chyna.
In what seemed like a retaliation move, Kardashian shared explicit photos of his former fiancée, accused her of sending him videos of her cheating with another guy, and also accused her of using him for his money. (Elite Daily reached out to Rob Kardashian's reps, but did not receive a response by the time of publication.)
The model and business woman refused to take Kardashian's revenge porn lying down and lawyered up quickly, seeking the services of Lisa Bloom, an attorney whose name rings bells for the series of women's rights cases she has taken on.
Elite Daily spoke with Bloom, not only about Blac Chyna and Rob Kardashian's situation, but of the other women she's worked with in the past.
Bloom defended actress Mischa Barton two months ago on a similar revenge porn case.
She also represented Janice Dickinson when she filed a defamation lawsuit against Bill Cosby, who she accuses of allegedly drugging and raping her. (Bill Cosby maintains his innocence and his legal team attempted to get the suit dismissed in March 2016, however the 2017 developments on the court proceedings indicate that Dickinson is moving forward with the lawsuit.)
You may also remember Bloom backing up Dr. Wendy Walsh, the woman who accused Bill O'Reilly of retracting a job offer and costing her a regular segment on Fox News after she turned down an invitation to his hotel room. O'Reilly, who maintained his innocence in a statement following his exit and called Walsh's claims "unfounded," was removed from the network and his show, The O'Reilly Factor, was cancelled.
In a celebratory post on her Facebook page about the case, Bloom wrote,
The women's empowerment thread in many of Bloom's cases aren't by chance.
The attorney tells Elite Daily,
I've been an attorney for 31 years and I have always stood up for women's rights, LGBT rights, and disability rights. I represent the underdogs. That's why I went to law school. That's what I enjoy. I always say I was born a baby feminist and I've only become more radicalized.
By "radicalized," I think she means that she's a take-no-prisoners lawyer who stands with women in courtrooms and in front of cameras to fight the patriarchy Wonder Woman-style.
She's even brave enough to go toe-to-toe with a Kardashian.
After Blac Chyna snagged her as representation, Bloom swiftly posted an official statement via her Twitter page, which not only announced her decision to defend Blac Chyna, but also accused Rob Kardashian of harassment.
Bloom claims that Rob Kardashian is not just responsible for revenge porn, which is against the law in California and 37 other states, but also for spreading false information about their relationship.
While Kardashian claimed that Chyna cheated on him and then basically sent him the proof to get a rise out of him, Bloom denies this.
She claims to Elite Daily that Chyna sending Kardashian a photo of her with another guy was her futile attempt to get him to leave her alone.
Bloom claims,
Chyna's explanation for that is that he was texting her and texting her and texting her. And I've seen the texts. There's a ton, hundreds. He would not leave her alone. She would block him. He would get a new number or email and keep poking her and bothering her. And she thought maybe a picture of her kissing another guy would get the message to him. Was it the best tactic? No, but compared to what he has done, it is very insignificant.
Bloom claims that Kardashian bringing their private spat into the public social media sphere with revenge porn is bigger than mean pictures; it's also emotional abuse.
Bloom tells Elite Daily,
In the brief I filed in the court yesterday, I cited a number of cases where girls have even killed themselves over revenge porn incidents where someone has taken exclusive photos and posted them online. Domestic violence isn't just hitting someone. It's much broader and includes emotional abuse. A lot of domestic violence victims will tell you that emotional abuse is also very painful and very serious. This is a grey area of the law and I'm glad that I had the opportunity to contribute to it. Judges tend to be older and male and maybe they're not so up-to-date on what's going on in the world.  I explained to the court that cyber-bullying is a form of emotional abuse and the court agreed with me on that in my Mischa Barton case and this Blac Chyna case.
Her mention of Barton refers to the outcome of the case she won for her two months ago, which blocked her ex-boyfriend, Jon Zacharias, from being able to distribute a sex tape and explicit photos that she claims another he took without her knowledge.
Barton alleged that Zacharias attempted to shop the footage around for $500,000. Zacharias agreed to hand over all explicit tapes and photos of Barton to Bloom. Barton was also granted a permanent 100-yard restraining order against him.
According to CBS Los Angeles, Zacharias' lawyer James Blatt said, "This is something both sides wanted."
On Monday morning, Bloom scored a similar outcome for Blac Chyna, who was given a temporary 100-foot restraining order. Additional requests in the order also block Kardashian from cyber-bullying Blac Chyna via social media.
The victory was followed by an agreement for equal custody of their infant daughter, Dream Kardashian. No criminal charges have been filed against Rob Kardashian for the revenge porn.
Bloom says the moments after winning a case — when she sees her clients walk a little taller and with more confidence — are what she enjoys most about her work.
She says,
When I take in clients, a lot of them feel fear. People come to me and they're crying. They're shaking. They're taking medication to calm themselves down. Even with Chyna yesterday, yeah she's a reality star. She's a model. But she was afraid. When we walked out of court, she was radiant and she had that huge smile on her face. That's what makes it all worth it to me. I was very, very happy to be able to give her that moment.
Now that the drama between Rob Kardashian and Blac Chyna has been resolved in court and he is no longer able to share photos or any posts about her anymore, Bloom is on to more business as usual and celebrating all of her victories, big and small.
Just before the interview, she was reviewing the details of yet another sexual harassment suit filed against the Los Angeles-based entrepreneur, Alki David, by two unnamed women. David filed a motion to separate the cases against the women's preference to stick together and his attorney, Barry Rothman, denied the allegations and accused the women of "no filters and no boundaries," according to Courthouse News.
Despite the claims of innocence, the women were ultimately able to maintain a joint case.
"They wanted to be together. There's only strength in numbers. Women love to stand together and I love to see that happen. We won that motion, so they are both still together in their case," says Bloom. "That makes us very happy. Every day we have victories like that. People come with every possible argument to try to deny women but we push back, we fight back, and we win."