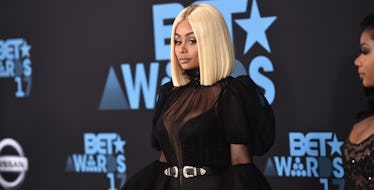 Blac Chyna's Lawyer Reportedly Threatened Rarri True To Not Post Nudes Or She'll Sue
Alberto E. Rodriguez/Getty Images
Blac Chyna's lawyer, Lisa Bloom, has reportedly threatened to sue Chyna's ex-hookup, Rarri True, in a legal document stating that if he posts (or tries to sell) any explicit photos of Chyna online, he will be sued and they will seek criminal action against him.
Elite Daily reached out to Chyna and True's teams for comment, but did not hear back by time of publication.
TMZ reports the document details the implications of posting explicit photos without the consent of the person in them. The document obtained by TMZ says,
Posting online or distributing photos of Ms. White's intimate body parts is a crime punishable by fines and jail time.
Chyna already has a temporary restraining order against Rob Kardashian and is clearly making moves to further protect herself in the future.
Part of the document states,
California Penal Code 647 makes it a crime to distribute any images of 'intimate body parts' without the person's consent. Posting online or distributing photos of Ms. White's [Blac Chyna] intimate body parts is a crime punishable by fines and jail time. This letter is to notice you that you do not have permission to post online or distribute by any means any sexually explicit photos of Ms. White or of her intimate body parts. We will not hesitate to seek all civil and criminal remedies against you if you post or distribute such photos in any manner to any person.
The document also says Chyna has the rights to request a restraining order against Rarri True should she feel it necessary.
There's a strong chance Kardashian could be subject to jail time for posting revenge porn of Chyna, as revenge porn is illegal in the state of California and 38 other states, including Washington D.C.
California's amended 2014 law states,
This bill would instead provide that a person who intentionally distributes an image, as described, of the intimate body part or parts, as defined, of another identifiable person, or an image of the person depicted engaging in specified sexual acts, under circumstances in which the persons agree or understand that the image remain private, the person distributing the image knows or should know that distribution of the image will cause serious emotional distress, and the person depicted suffers that distress, is guilty of disorderly conduct. The bill would also provide that it is not a violation of this provision to distribute the image under certain circumstances, including where the distribution is made in the course of reporting an unlawful activity. The bill makes other technical and clarifying changes. Because this bill would broaden the scope of a crime, it would impose a state-mandated local program.
Blac Chyna isn't f*cking around with any of this. Good for her.