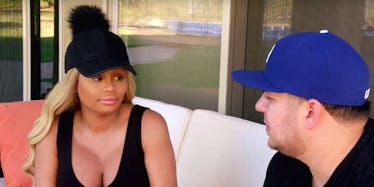 Blac Chyna Breaks Silence On Rob Kardashian, Says She's "Devastated" By Revenge Porn
E! Entertainment
It's been a long five days for Rob Kardashian and Blac Chyna.
On Wednesday, July 5, Rob went on a scathing rampage on his Instagram, posting an outrageous number of nude photographs of his ex, Chyna. Along with the graphic imagery, Kardashian included heavy hitting accusations, claiming Blac Chyna only used him for money, and allegedly abuses drugs and alcohol.
Elite Daily reached out to Kardashian's and Chyna's teams for comment, but did not hear back by time of publication.
In the state of California, Rob's behavior could be considered revenge porn, and now Chyna is taking legal action.
In her first interview since the incident with ABC News, Chyna said,
I was devastated, of course. I'm like, how could somebody, like, post these pictures of me? And, I'm like, 'Wow, OK.' Like, this is a person that I trusted. I just felt...betrayed.
Chyna's attorney, Lisa Bloom, explained Chyna will be seeking a domestic violence restraining order against Rob, and that revenge porn is considered "a crime, a civil wrong, and a form of domestic abuse."
When asked about what made her decide to take legal action, Chyna explained,
The moral of the story is like, he doesn't respect me. So if you can't respect me, you have to respect the law.
Bloom also stepped in to explain the difference between Chyna deciding to post photos of her own body versus Rob posting photos of her body.
Any explicit photos that she may have chosen to post in the past, that's her choice. This is like saying that a woman can't be raped if she previously chose to have sex with someone. It's her body. It's her choice. Each and every time.
Bloom also represented actress Mischa Barton in a revenge porn case, and posted the following message to Rob on her Twitter account, telling him to "Knock it off."
Kardashian said in his posts he was triggered by a specific video Chyna sent him on the Fourth of July. In it, she is seen kissing another man.
Chyna explains she sent the video in hopes it would make Kardashian leave her alone.
I've been broken up with Rob since December. And it's like, if somebody keeps poking at you, and poking at you, and poking at you and keep poking at you, you're eventually you're going to pop. And so I was just like, 'Maybe if I send this video to him then he'll just leave me alone.'
Y0u can catch the entire interview in the video clip below.