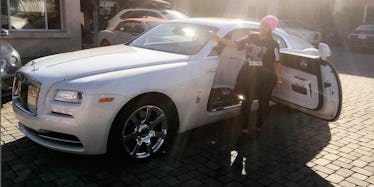 Blac Chyna Got Herself A $400K Push Present Before Even Giving Birth
Instagram
Blac Chyna gifting herself a $400,000 present for giving birth before she actually gives birth is the most Blac Chyna thing of all time.
According to my editors and fellow non-male writers, "push presents" for giving birth are a thing that women do. The act of gifting yourself for pushing a baby out of your body is supposedly a pretty common practice I honestly didn't know about.
I remember hearing Kim Kardashian bought herself some jewelry after she gave birth, but she also flew to France before that happened so she could eat cheesecake, so I don't exactly look to her as a barometer of what women do nowadays.
Blac Chyna is the absolute queen of push presents. The future Mrs. Kardashian and mother to Rob's daughter decided in honor of the birth-to-be, she would treat herself to a small gift.
Angela showed off her new Rolls on Snapchat, taping herself cruising with her big-ass watch and diamond engagement ring.
The car appears to have been customized to fit Blac Chyna's style.
There is even some sort of built-in, high-tech starry ceiling for the car, which is the rich person equivalent of riding with your sun roof open at night.
Chyna isn't the first member of the Kardashian universe to go all out on a push present. Her future sister-in-law Kim notably talked about push presents on her website right before Saint was born, writing,
Do you guys believe in a push present? I never did, but all of my friends do!!! We have the funniest e-mail chains discussing it. One friend got a special diamond ring she always wanted, and another friend got a new car! I like the idea of a push present — after nine months of pregnancy it's a sweet and well-deserved thank you. We women go through an entire pregnancy carrying a baby… of course it only makes sense that we get something amazing to show how amazing we are! LOL!
It should be noted, though, the most expensive thing Kim asked for as a push present was a $2,600 choker from Gabriela Artigas.
So good job, Blac Chyna. You're the only person on the planet who could possibly ever get Kim Kardashian to go, "Whoooooooa, that is WAY too extravagant of a gift for yourself."
Citations: Blac Chyna Buys Herself a 400000 Rolls Royce as a Push Present (E! News)