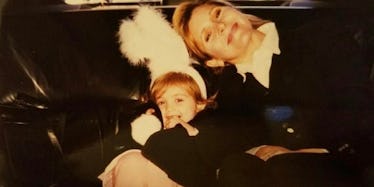 Billie Lourd's Moving Post On What Carrie Fisher Taught Her Will Make You Sob
Instagram
It's been a little over two weeks since Carrie Fisher passed away, leaving "Scream Queens" actress Billie Lourd without a mother.
I cannot fathom the difficult time Lourd is going through right now, but it appears she's finding strength to make it through this from no one less than Carrie herself.
Late Wednesday night, the 24-year-old actress posted a touching Instagram photo of her and her beloved mother at younger ages smiling together in the back of a car.
In the caption, Billie is quoting her mother and talking about what Carrie has taught her about "finding the funny" in life.
FYI: This post will make you sob.
The sentimental caption Lourd wrote aside the old photo reads,
'If my life weren't funny then it would just be true and that is unacceptable.' - Carrie Fisher. Finding the funny might take a while but I learned from the best and her voice will forever be in my head and in my heart.
We love you, Billie.
Although finding "the funny" might take a while for Lourd and her family to find again, she's right: Carrie's voice will live forever and we can all take this advice and run with it.
This Instagram post follows Lourd's first heart-wrenching photo, which paid tribute to both her mother and grandmother's death.
Her grandmother, Debbie Reynolds, died on December 28 after suffering a stroke. Her daughter, Carrie Fisher, died the day before her following a heart attack.
Last week, Billie Lourd's sadness was captured in photos taken during her mother and grandmother's joint funeral.
Apparently, Lourd helped organize the service herself, which included multiple celebrities friends in attendance, Carrie's favorite foods and a sing-along to her favorite song "Happy Days Are Here Again" by Ben Selvin.
There's no question these women were extremely close and it's clear Carrie's voice will live forever in her heart.