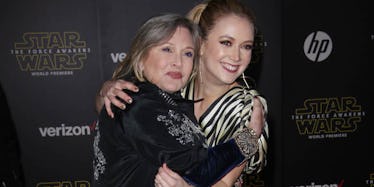 Heartbreaking Photos Show Billie Lourd Crying At Mom Carrie Fisher's Memorial
REX/ Shutterstock
It's been a dark and dismal few weeks for Billie Lourd, the 24-year-old daughter of beloved actress Carrie Fisher.
Within two days, Billie lost both her mother and her grandmother.
On December 27, Carrie Fisher died at 60 years old of a heart attack while aboard a plane. On December 28, her mother, Debbie Reynolds, died of a stroke at 84 years old.
I cannot fathom the sadness Billie is currently suffering through.
Heartbreaking photos of the "Scream Queens" actress at her mother and grandmother's joint funeral recently surfaced, and they're enough to make you sob.
In the photos, Billie can be seen crying and hugging guests who have come to show respect for her deceased mother and grandmother.
According to Metro, multiple celebrities who are close with the actress-filled family came to the service, where Billie and Todd Fisher greeted them.
The star-studded guest list included Meryl Streep, Gwyneth Paltrow, George Lucas, Meg Ryan and more.
It's been reported Billie organized the service to be held in Carrie's home because she knew her mother loved to throw parties there.
She wanted her friends to be in her living room "one last time."
Apparently, guests were also served Carrie's favorite foods during the service, which were cornbread, fried chicken and green vegetables.
According to a guest who attended the service, Meryl Streep even sang Carrie's favorite song, "Happy Days Are Here Again" by Ben Selvin and had the guests sing along.
Days before the funeral, Billie posted a tribute to her mother and grandmother on Instagram after a few days of silence (and probably shock).
The post reads,
Receiving all of your prayers and kind words over the past week has given me strength during a time I thought strength could not exist. There are no words to express how much I will miss my Abadaba and my one and only Momby. Your love and support means the world to me.
Although Billie appeared to be incredibly sad (naturally) in the photos from the service organized for her Abadaba and Momby, her beloved mother and grandmother would be proud of her strength during this very difficult time.
Citations: Meryl Streep, Gwyneth Paltrow and George Lucas attend Carrie Fisher and Debbie Reynolds' private memorial service (Metro)