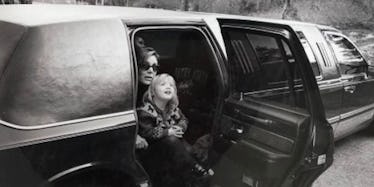 Billie Lourd Shares Heartwarming Throwback Photo Of Mom Carrie Fisher
Instagram
The year 2016 was rough for actress Billie Lourd, who lost both her mother, Carrie Fisher, and her grandmother, Debbie Reynolds, in late December.
Fisher was only 60 years old when she died, and Reynolds was 84 when she died the very next day.
Now, two months in to 2017, it looks as though Lourd is ready to look back on her memories of her mother fondly.
On February 23 — the two-month anniversary of the day Fisher suffered a heart attack mid-flight — the 24-year-old "Scream Queens" star shared a touching old photo of her and Carrie on Instagram.
The framed black-and-white photo shows Lourd as just a little girl, sitting on the "Star Wars" actress's lap in the back of a limousine.
Lourd captioned the photo with star and angel emojis.
Fisher had Lourd in 1992 (with Fisher's then-boyfriend, talent agent Bryan Lourd), well after she had achieved international fame for role as Princess Leia. I can only imagine what it must be like to grow up with such a well-known, iconic American actress as your mother.
This is not the first time Lourd has spoken up about her mother and grandmother's sudden and tragic deaths.
A few days after Fisher and Reynolds died, Lourd shared a moving photo of the three of them on Instagram, and wrote in the caption,
Receiving all of your prayers and kind words over the past week has given me strength during a time I thought strength could not exist. There are no words to express how much I will miss my Abadaba and my one and only Momby. Your love and support means the world to me.
A week later Lourd shared another photo of herself and her mom.
She wrote in the caption a moving quote from the great Carrie Fisher herself, and a promise to take Fisher's ideology to heart.
The young actress wrote,
'If my life weren't funny then it would just be true and that is unacceptable.' – Carrie Fisher. Finding the funny might take a while but I learned from the best and her voice will forever be in my head and in my heart.
This can't be an easy journey for Billie Lourd to go through, but I'm happy she seems to be finding some peace through her memories.