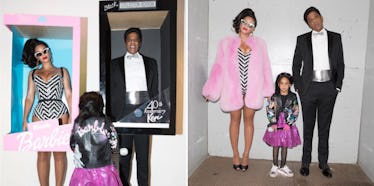 Beyoncé And Jay Z Halloweened Harder Than Blue Ivy As 'Black Barbie' And Ken
Beyonce
Beyoncé, Jay Z and their daughter, Blue Ivy, were not playing games with Halloween costumes this year.
We thought maybe their epic Salt-N-Peppa "Push It"-inspired costumes won Halloween this year, but the Carters weren't done yet.
Last night, Beyoncé posted photos on Instagram of her family dressed up as a vintage "Black Barbie" collection -- complete with boxes.
That's dedication.
Are they not the cutest?!
If there's one thing we know about Beyoncé and Jay Z, it's they don't half-ass anything.
As per usual, Bey looked flawless while rocking a black and white bodysuit and high ponytail. She made her costume complete with pumps and vintage-looking shades.
When she was outside of her Barbie box, she wore a fluffy pink coat. Needless to say, she nailed it.
Jay Z looked sharp as Ken, too, with a black tuxedo and silver bowtie. His box said "Black Collector Edition" and "40th Anniversary Ken." Also, check out that wig!
Of course, we can't forget about Blue Ivy  as a mini Barbie doll wearing a black leather jacket with "Barbie" written on the back, fishnet stockings, an adorable pink sequin skirt and sparkly sneakers.
She was also carrying a microphone at some point during the night.
Honestly, though? Beyoncé and Jay Z did Halloween better than Blue Ivy this year. The 4-year-old has some work to do!
The Barbie family went out in SoHo, New York with Kelly Rowland to show off these dazzling costumes -- of course, that's on top of the Instagram posts, which quickly got over a million likes.
These awesome costumes are just another reminder the Carters can pretty much do anything.
Personally, their costumes just make me feel a ton of Halloween guilt because I didn't plan anything at all and ended up going as a snowboarder... which is something I am in real life anyway.
That being said, the vintage Barbie costume is a pretty easy one to pull off for any body type (you don't have to look as good as Beyoncé, obviously) so I'll have to keep that one on the back burner for next year.
Citations: 'Black Barbie': Beyonce shows off her curves in skimpy swimsuit and fluffy hot pink jacket to dress as iconic doll on Halloween night out with Blue Ivy and her Ken Jay Z (MailOnline)