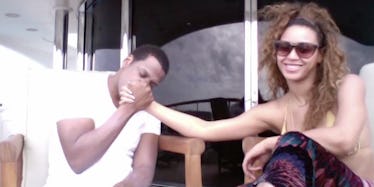 Beyoncé Shares Emotional Home Video Montage To Celebrate Anniversary With Jay Z
Facebook
OK, I think Beyoncé officially wins best anniversary gift ever. Today is her ninth anniversary with her husband Jay Z, and she commemorated the occasion with an absolutely gorgeous and heartwarming montage of her life with Jay in home videos. Like, seriously, I'm a puddle over here after watching it, you guys.
The sweet and emotional new video shows all of the intimate moments of Bey and Jay's nearly 15 years together, including their wedding in 2008.
They also show off their matching "IV" finger tattoos, commemorating their April 4th anniversary.
Anyone who knows Beyoncé knows that the number four is incredibly meaningful to her — both she and Jay Z were born on the 4th of respective months, and they gave their daughter, Blue, the middle name Ivy after the Roman numeral for their lucky number.
The video goes on to show Jay and Bey together through the other major events of their life, including video footage from the hospital room of the birth of their daughter, Blue Ivy.
The clip finally reaches the modern day, and we see clips of Beyoncé with a glowing smile as she shows off her pregnant belly in home video clips. Blue Ivy gives her new baby twin brothers or sisters (or brother and sister) a series of kisses.
The video is set to Beyoncé's 2015 love song "Die With You," which she released exactly two years ago in honor of her seventh anniversary with Jay Z.
Though the full version of the adorable new video, which features Beyoncé performing the song on a piano in between home video clips, is exclusively available on TIDAL, Bey shared a shortened version that includes only the sweet home videos on her Instagram and Facebook accounts.
Check it out below, once you have some tissues ready!
And thanks to the ever-loyal BeyHive, you can check out the full version of the video even if you already wasted your TIDAL free trial when Lemonade dropped like I did. A fan account uploaded the full video in four parts to Instagram.
The first part of the video brings you into Bey and Jay's days of young love, as they jump around with each other and giggle together on a boat and in an airplane. Back when all they needed in this life of sin was themselves and their boyfriend/girlfriend.
In the incredibly intimate second portion of the video, we see some never-before-seen footage from Beyoncé and Jay Z's wedding, and an up-close-and-personal look at the happy couple in the hospital room the moment they became parents.
Definitely the cutest portion of the video comes next, which gives fans an adorable look at Blue Ivy playing around with her parents as a newborn.
And finally, it ends with some more playful shots of Blue Ivy, and footage of Beyoncé's new baby belly. In the final shot of the clip, Bey closes out the song on the piano and laughs into the camera.
And if all that wasn't enough, Bey also made a 63-song playlist for Jay on TIDAL called "IV EVER EVER," which is packed with soulful love songs from Frank Ocean, Prince, Michael Jackson and more.
Love is truly in the air today!