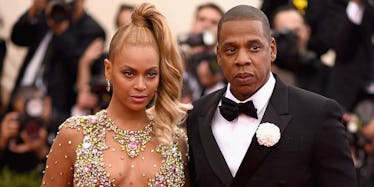 Beyoncé And JAY-Z Step Out Together Following Birth Of Twins And There Are Pics
Getty Images
Beyoncé spotting, Beyoncé spotting! This is not a drill, people! A wild Beyoncé has appeared, with JAY-Z in tow.
And no, I'm not talking about the picture that the queen herself posted early Friday morning of her two new babies, Rumi and Sir Carter, though that is also amazing.
I'm talking about bonafide paparazzi pics of Bey out on the town, with a full view of her post-pregnancy look.
UPDATE: Beyonce added three more pictures to her Instagram page of her outfit from Wednesday night, and her slammin' post-pregnancy bod.
EARLIER: Though this should not surprise anyone — the queen looks freakin' amazing.
Beyoncé and JAY-Z were reportedly out in Los Angeles attending a listening party on Wednesday night to support musical artist Vic Mensa, whose debut album The Autobiography drops July 28.
Two Beyoncé pictures in one day? We are truly a blessed group, BeyHive.
Fans on Twitter are going crazy over the 35-year-old mother of three's post-pregnancy look, and I don't blame them.
Bey stepped out in a tight floral dress, a white cropped wide-sleeved jacket, a pom-pom bag, and two different pairs of high-heeled shoes. Her hair is in golden waves reminiscent of "Crazy in Love"-era Beyoncé.
(Oh, and JAY-Z was there too, in a jean jacket and baseball cap.)
So can July 14 be declared a National Beyoncé holiday or...?
Earlier Friday (and by earlier I mean like 1 o'clock in the morning, earlier), Beyoncé rocked the internet by posting the first photo of her new twins, Rumi and Sir Carter, on Instagram in celebration of their one-month birthday.
She wrote in the caption,
Sir Carter and Rumi 1 month today.
Of course, because the photo was posted around 1 a.m. ET and 10 p.m. PT, it's unclear whether the twins were born on June 13 or June 14.
Solution? Let's just declare this whole week the week of Beyoncé. Scratch that, let's make it the whole year. 2017 is now officially the year of Beyoncé. Try and fight me on that. I dare you.