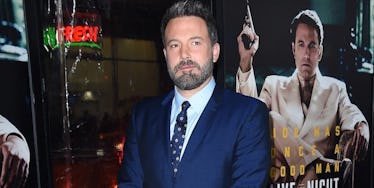 Ben Affleck Looks Happy At His First Red Carpet Since Announcing Rehab
REX/Shutterstock
Ben Affleck looked pretty good during his return to the red carpet.
The 44-year-old "Batman Vs. Superman" actor did a little press for the upcoming "Justice League" movie with a few other cast mates on Wednesday night at CinemaCon.
Affleck was flanked on the carpet by Jason Momoa, Ezra Miller, director Zack Snyder, Ray Fisher and Henry Cavill.
The event took place just days after Warner Bros. released the first major trailer for "Justice League," due to hit theaters in November of this year.
This marks the first time Affleck has made a red carpet appearance since being released from rehab earlier this month. He recently made the announcement on Facebook that he had finished treatment and was feeling lucky for having his family, friends and ex-wife, Jennifer Garner, there supporting him.
In the emotional post, he wrote,
I have completed treatment for alcohol addiction; something I've dealt with in the past and will continue to confront. I want to live life to the fullest and be the best father I can be. I want my kids to know there is no shame in getting help when you need it, and to be a source of strength for anyone out there who needs help but is afraid to take the first step. I'm lucky to have the love of my family and friends, including my co-parent, Jen, who has supported me and cared for our kids as I've done the work I set out to do. This was the first of many steps being taken towards a positive recovery.
Affleck split from Garner back in 2015 after 10 years of marriage.
Days after being released from rehab, Jen and Ben were spotted together with one of their children.
After two years of separation from Affleck, Garner allegedly filed for divorce back in February. But as of March 2017, they have reportedly called off said divorce.