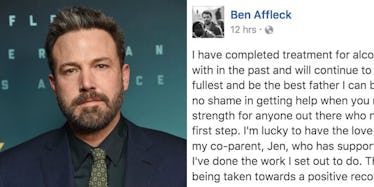 Ben Affleck Reveals He Recently Went To Rehab In Heartbreaking Facebook Post
REX/ Shutterstock/ Facebook
Ben Affleck penned a heartbreaking Facebook post letting his fans know he recently went to rehab to address his ongoing battle with alcoholism.
The 44-year-old actor posted the update on Tuesday night and admitted his addiction is something "he's dealt with in the past and will continue to confront."
In the post, he credits his friends and family -- including his co-parent, Jennifer Garner -- for their constant support, and says he wants his children to know "there is no shame in getting help when you need it."
Affleck's Facebook status in its entirety reads,
I have completed treatment for alcohol addiction; something I've dealt with in the past and will continue to confront. I want to live life to the fullest and be the best father I can be. I want my kids to know there is no shame in getting help when you need it, and to be a source of strength for anyone out there who needs help but is afraid to take the first step.
I'm lucky to have the love of my family and friends, including my co-parent, Jen, who has supported me and cared for our kids as I've done the work I set out to do. This was the first of many steps being taken towards a positive recovery.
Affleck and his ex-wife, Jen, separated in 2015, but continue to share their three children, Violet, Samuel and Seraphina Affleck.
An insider spoke to E! News about the current status of the celebrity couple, saying,
They are not back together. They are co-parenting. The most important thing in all of this are their kids.
This isn't the first time the actor has gone to rehab.
Apparently, Afflect checked into Promises, a Malibu-based rehab center, in 2001 due to alcohol-related struggles, E! News reports.
He commented on the rehab visit during an interview with Hollywood Reporter in 2012, and said,
I went to rehab for being 29 and partying too much and not having a lot of boundaries and to clear my head and try to get some idea of who I wanted to be. It was more a 'let me get myself straight,' before it became a rite of passage.
Let's hope the famous father-of-three receives the help he needs to conquer his most recent battle with alcohol addiction.
We support you, Ben.
Citations: Ben Affleck Reveals He Completed Rehab Stint for Alcohol Addiction (E! News), THR Cover: Confessions of Ben Affleck (The Hollywood Reporter), Jennifer Garner and Ben Affleck Are Co-Parents, Not a Couple: "Nothing Has Changed" (E! News)