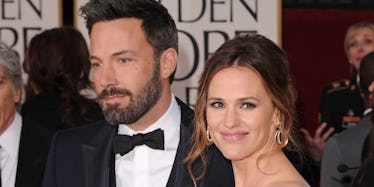 Ben Affleck And Jennifer Garner Called Off Their Divorce, So There's Still Hope
REX/Shutterstock
OMG! OMG! OMG!
Roughly two years ago, Jennifer Garner and Ben Affleck announced they were calling it quits on their marriage.
Less than a month ago, Garner was reportedly "gearing up" to actually file the divorce paperwork to officially end the couple's decade-long marriage.
Now, according to sources, Ben Affleck and Jennifer Garner are reportedly calling off their impending divorce!
Apparently, the 44-year-old actors plan to try to work on their marriage in an attempt to avoid an official split.
A source told People,
Jen has called off the divorce. She really wants to work things out with Ben. They are giving things another try.
YOU GUYS!!! I'm about to start crying at my desk, and I haven't even finished my first cup of coffee of the day.
According to a source close to Ben Affleck and Jennifer Garner,
There is always a chance of reconciliation. They love each other. They also really, really love their kids, and those kids love their parents.
Apparently, Ben and Jen threw a birthday party for their 5-year-old son, Samuel, the day after the Oscars. The party reportedly took place at Affleck and Garner's Los Angeles home.
Speaking about Samuel's birthday bash, a source told People,
The girls had wrapped presents for Sam, including superhero toys. They had a cake. Everyone seemed happy.
The plans to put the divorce on hold seem in stark contrast to recent comments Jennifer Garner allegedly made about her future.
Speaking on Garner's decision to file for a divorce from Affleck, a source said,
Jen was telling friends that she plans on filing for divorce. She just wanted to move on and focus on the happy things in her life. She was exhausted from all the ups and downs.
Speaking on his relationship with his children back in January, Ben Affleck told People,
I like taking my kids to school in the morning and dropping them off and having them know their dad is there. That feels good.
According to People, a close source to Garner added,
Ben is making a big effort to take care of himself. They are not back together, but there seems to be hope. Jen is hoping they can stay married. Ben doesn't want a divorce either.
Please, please let these two make it through.
Citations: Ben Affleck and Jennifer Garner Call Off the Divorce — For Now: Sources (People)