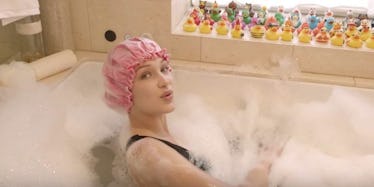 Bella Hadid Takes A Bubble Bath With Rubber Duckies In Awkward New Video
YouTube
The last seven days have been pretty eventful for model Bella Hadid.
The 20-year-old has been in the headlines for all the wrong reasons after photos surfaced of Selena Gomez making out with Bella's ex, The Weeknd.
Understandably, Bella reportedly felt "betrayed" by Selena, but it appears the Victoria's Secret Fashion Show rookie is going to be just fine.
In fact, as you can see in the video at the top, Bella recently starred in a video for W magazine, in which she showed the world exactly how she's staying relaxed and chill during this difficult time.
Apparently, Bella Hadid relaxes in her free time by taking bubble baths with rubber duckies, playing giant Jenga and eating -- wait for it -- pepperoni pizza!
OMG, SHE'S JUST LIKE US! PIZZA, BATHS AND GAMES???
Is this what it's really like when Bella Hadid goes home?
After she walked into the apartment in the above video, Bella Hadid said,
I usually just like to change hats, sometimes, for fun. Every day, when I get home from work, I feel like I've done the best I can. I just take one [Jenga piece] out. Genius.
The 20-year-old continued,
This is like my usual night. It's time for bath time. This is my collection of rubber duckies. I've been collecting rubber duckies since I was, like, 19. This is how I relax, normally.
I have to say, that is one impressive collection of rubber duckies, no? Of course, all of Bella's duckies have names, too.
In all seriousness, though, it's really awesome to see this whole love triangle situation with Selena Gomez and The Weeknd isn't stopping Bella Hadid from doing her own thing and living her damn life.
Stay strong, Bella! I'm sure you'll find an even better dude to love than The Weeknd.
Also, in case you need a quick lesson on why Selena and The Weeknd hooking up is so awkward, well, we've got you covered.
Citations: Bella Hadid Shows Two Different Sides of Her Personality in Videos for 'W' Magazine and Dior Beauty (Us Weekly)