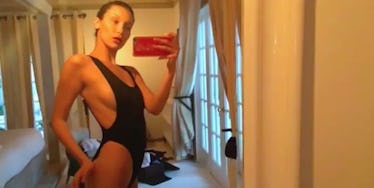 Bella Hadid Responds To The Weeknd And Selena Gomez With Sexy Swimsuit Video
Instagram
Bella Hadid wants everyone to know she DGAF about The Weeknd making out with Selena Gomez.
She doesn't cry all day, watch sad movies or eat a tub of Ben & Jerry's.
She doesn't stare at these pictures every night before she falls asleep.
NAHH, the girl's good.
Haha, JK.
On Thursday, the 20-year-old model posted a sexy swimsuit boomerang on Instagram as a way to say "screw you" to her ex.
She posed in front of the mirror in a one-piece black bathing suit and showed off some major sideboob.
GET IT, BELLA. WORK THOSE ANGLES.
She captioned the post,
goodnight love and light to you all... happy to be home
Uh, goodnight? When I go to bed, I wear sweatpants and a "Star Wars" T-shirt. Whatever, I won't question it. She looks really hot.
Bella Hadid and The Weeknd broke up two months ago, so many fans think the video was a way for her to one-up Selena Gomez.
Just the other day, a photo of the "Hands To Myself" singer's bare butt was posted on Instagram. LOOK AT THAT TUSH.
IT'S A BATTLE OF THE SIDEBOOB VS. BUTT. EVERYONE COMMENT ON WHO YOU THINK WON.
LOL, just kidding again! Don't vote, just roast me in the comments. They're both beautiful, inside and out!!! Hehehehehe.
Remember earlier when I said Bella Hadid doesn't care about Selena and The Weeknd? That was a good joke, right?
To make things even more awkward, Selena is apparently still following Bella. YIKES.
No offense to Bella, but I'm personally feeling Abelena.
They look really cute together and their voices would sound amazing in a collab. HMMMMMMM, can we make that happen?
Bella, keep your chin up, girlfriend. Do your best to relax, spend time with your family and enjoy The Weeknd.
Hahahahahaha, I crack myself up.
Citations: Bella Hadid Responds To The Weeknd And Selena Gomez (Us Weekly)