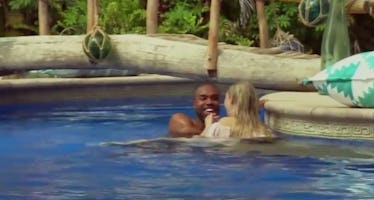 'Bachelor In Paradise' Cast Talking About Corinne And DeMario Drama Got So, So Awkward
ABC
Bachelor In Paradise is back, even after all of the drama that went down between DeMario Jackson and Corinne ahead of the season premiere. We knew the allegations would be discussed after Corinne and DeMario's incident caused production to be halted, but we didn't know Chris Harrison would approach it in the most awkward and uncomfortable way possible. On Tuesday night's episode, the Bachelor In Paradise cast reacted to Corinne and DeMario's controversy and it reminded fans of a high school sex-ed class.
After Bachelor In Paradise producers learned there might have been sexual misconduct on set between contestants, Chris Harrison sat down with the remaining cast members to talk about consent and what really happened between DeMario and Corinne in the hot tub that night.
Harrison asked whether cast members felt race was a "factor" and how they felt consent is defined, both when alcohol is involved and without. Contestants like Raven Gates, Jasmine Goode, and Taylor Nolan took turns giving answers to Harrison's questions. Everyone spoke briefly and then waited for what the host would ask next.
Bachelor Nation, for the most part, commended Harrison and the show for taking the time to discuss consent and drawing attention to the issues at hand. However, it looks like everyone pretty much agreed the conversation was still awkward AF.
Fans on Twitter compared Harrison's lecture to a "high school lesson" and a "bad sex-ed class."
According to many, it might have been one of the most uncomfortable moments in Bachelor history. Yikes.
After Harrison asked the cast questions, there were lots of awkward silences and long pauses before contestants were able to answer. Due to this, Twitter users said the discussion felt "forced."
The show's executive producer, Martin Hilton, recently spoke about how producers sat down with cast members following the show's investigation to discuss how to move forward, specifically about if alcohol consumption would be condoned on set.
Hilton told Entertainment Weekly, 
When the cast returned, we sat down with them both off-camera and on-camera to see how they wanted to proceed, what limitations they thought were fair, and what role they played in terms of their behavior on the show. They were very clear that summer fun in paradise on their end needed to include drinking. That was how relationships formed, and how bonding takes place. That was their choice.
While many fans were dissatisfied about the overall discussion that aired on Bachelor In Paradise, I appreciate the producers' efforts to highlight issues of consent, speak on the allegations, and lay out new rules for the show so contestants have a safer space to stay.