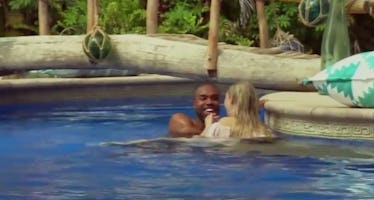 'BIP' Didn't Show The Corinne & DeMario Incident & They Never Should
ABC
The Bachelor in Paradise premiere finally gave fans exactly what we've been waiting months for: an answer to what Corinne Olympios and DeMario Jackson did to get production shut down for several weeks just days into filming. Or at least, they almost did. The first episode of the season showed us Corinne and DeMario in the pool together on day one, but did they really show us everything? Obviously, ABC isn't going to air anything too sexual on a primetime show, but beyond even that, some fans were left wanting more when it came to Corinne and DeMario's portrayal. What scenes did the Bachelor in Paradise editors cut out of the controversial hookup?
Basically, viewers didn't see anything go on between DeMario and Corinne that stood out as a reason to halt production. All we saw was a quick glimpse of the two new contestants drunkenly jumping in the pool together the first afternoon in the middle of the premiere episode. If you didn't know anything about the scandal, you wouldn't even assume anything unseemly went on in that pool.
But honestly, it's a good thing BIP decided not to fully show the DeMario and Corinne scenes. Although investigators concluded there was no misconduct, the now-infamous pool scene is surrounded in a complicated haze of sexual assault allegations. It's best to not exploit such a serious issue.
A couple months back, Bachelor Nation was shocked to learn Bachelor in Paradise had halted production in order to investigate allegations of misconduct concerning a murky situation between Corinne and DeMario. After several weeks, Warner Bros. investigators determined there was no evidence of misconduct, and production resumed, only this time without Corinne and DeMario.
We may still be unclear on exactly what went down between the two contestants, but both of them are confirmed to come back for the Bachelor in Paradise finale reunion show, so we might get some clearer answers then.