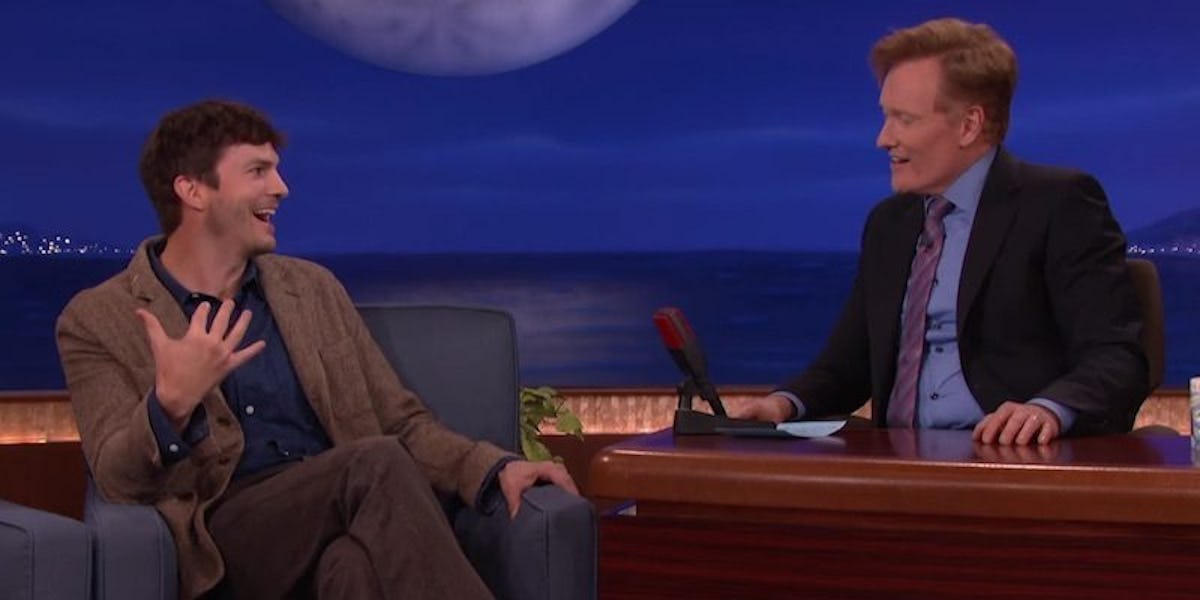 Ashton Kutcher Says Mila Kunis Shot Down Awful Baby Name Idea He Took From Fans
TBS
Everyone needs to take a moment to personally thank Mila Kunis for her public service today.
Recently, Mila saved us all from a very dire fate: letting Ashton Kutcher name humans that will soon exist in the world.
More specifically, Mila spared the world from a child named Hawkeye Kutcher.
Hawkeye Kutcher. 
Yeah. I think we all owe Mila flowers.
Ashton, however, does not share my gratitude for Mila's heroic act.
On Wednesday, the 38-year-old actor spoke to Conan O'Brien on "CONAN" about the naming process for his upcoming baby boy with Mila.
When Conan asked if there were any names Ashton had suggested that Mila vetoed, Ashton replied,
There was a rallying cry from a collective that believed in the name Hawkeye.
My first thought when I heard that name was Jeremey Renner in "The Avengers," but Ashton's thinking a little more classically than that.
He said,
It's like 'MASH!' Like, he could be a doctor! Like... 'cause on 'MASH!'
Luckily for all of us, Mila stepped in. Ashton said,
It didn't fly. It didn't get across the Mila threshold. It came to the threshold, but then it got knocked down.
Mila and Ashton already have a 2-year-old daughter named Wyatt, which, while a little unusual for a girl's name, I think we can all agree sounds incredibly tame compared to Hawkeye.
Thankfully, it sounds like the couple has landed on a secret, non-"MASH" related name for their second child, though they may be having second thoughts about it.
Ashton told Conan,
We have a name dialed in that we've had for a while. The problem is, if you get the name too soon, suddenly there's slight trepidation around the name. The other day Mila asked me, 'So, you still like the name?' And I was like, 'Yeah!' And she's like, 'Why was it the high-pitched 'yeah'? Why wasn't it the low-pitched 'yeah'? ... And now we're like maybe we don't like the name, even though we both love the name... So I think we have a name.
So far Ashton has managed to keep this maybe-name under wraps — unlike he did with the baby's gender — but he did almost slip on "Live with Kelly."
While he was on the show, he whispered the name into Kelly's ear, not knowing the mics were on.
You couldn't really make out what he said (and the video has since been removed), but some speculate it starts with a "B" — possibly Baron.
Maybe Mila should just ban Ashton from going on live television altogether?