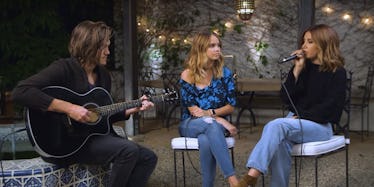 Ashley Tisdale's Duet With Another Disney Channel Star Will Take You Back To 2008
YouTube
Ashley Tisdale is here to remind us that our childhoods will never be forgotten.
The High School Musical star teamed up with Debby Ryan, another Disney Channel actress, to record an epic duet, and everything about it will make you feel nostalgic.
Tisdale, aka Sharpay Evans, hosts a segment known as "Music Sessions" on her YouTube channel, where she invites her friends and former co-stars to sing along with her.
Earlier this year, Tisdale brought on Vanessa Hudgens and took us all back to 2006 (when the first High School Musical premiered). The actresses never sang together in the movies, so their duet of "Ex's & Oh's" was actually a first.
The fact that they're BFF IRL makes my heart freaking melt.
Then, just last month, Tisdale had her on-screen twin brother, Ryan Evans (aka, Lucas Grabeel), join her to perform "What I've Been Looking For."
Ugh, again, all the feels.
After those two duets, I had high hopes for Tisdale's most recent upload.
Now, if you're a '90s kid like I am, you may not immediately recognize Debby Ryan because she came onto the scene a bit later. Ryan played everyone's favorite nanny on the popular series Jessie, which aired from 2011 to 2015.
This collab, which is straight out of the early '00s, is made even better by their choice of a '90s song: "Say My Name" by Destiny's Child.
WHAT. A. CLASSIC.
Before they got to singing, Tisdale and Ryan chatted for a bit. Calling Ryan her "ultimate girl crush," Tisdale could not stop gushing about her friend.
It's unclear how they became friends (other than obviously having a big connection in Disney), but Tisdale said,
We've never even sang together, we haven't worked together, we've just been actual friends, you guys.
For never singing together, the duet came out flawlessly.
OK, Ashley, who's next? How about Zac Efron?