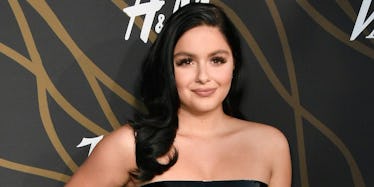 Ariel Winter And Her BF Are The Cutest Couple On The 2017 Emmys Red Carpet
Frazer Harrison/Getty Images
Ariel Winter just arrived at the Emmys Red Carpet looking as amazing as ever. The Modern Family star arrived to the red carpet with her boyfriend, actor Levi Meaden, and they're looking incredible. Just last night, the pair celebrated Meaden's 30th birthday with friends at Tao in L.A. Winter absolutely slayed in a hot pink latex(?) dress, and I don't think I could ever pull off that look if my life depended on it. But Ariel Winter at the Emmys is one of her best looks yet.
The actress arrived to the red carpet wearing a black and silver floor-length dress, and it's stunning. She's been one of the stars of ABC's Modern Family since she was around 11 years old, and the show has a total of 22 Emmy wins. It has been awarded the coveted Outstanding Comedy Series award five times. Ty Burrell and Julie Bowen, Winter's on-screen parents, have won Outstanding Supporting Actor in a Comedy Series and Outstanding Supporting Actress in a Comedy Series two times each. Eric Stonestreet, who plays Cam on the show, has also won Outstanding Supporting Actor in a Comedy Series twice for his performance. Modern Family is up for Outstanding Comedy Series again this year, as is Ty Burrell.
In an interview with Jimmy Kimmel back in May, Winter said her co-stars on Modern Family have gotten used to how grown up she and her younger castmates have gotten. Winter started working on the show when she was around 11 years old, and now she's just turned 19. She said of her on-screen family,
They definitely treat me like an adult now. I mean, I think it's a little weird for them. We started on the show when we were 10 and 11 years old, and we were running around with nerf guns and being crazy and not really doing anything adult-like. And now, that we're, you know, semi-adults, they definitely treat us different.
Here's Ariel Winter's Emmys dress.
Winter and Meaden arrived in complementing black outfits on the Emmys Red Carpet.
People are loving the actress's look.
They look so beautiful, I'm gonna cry. Seriously, these two are a serious contender for cutest couple at the Emmys. Winter and Meaden have been living together for a while now. Back in May, Winter told Kimmel (who hosted the Emmys last year) that she and Meaden love living together. She said,
My boyfriend and I live together, and he cooks. I can't cook at all. He takes care of all that handy stuff, he's great, he does all that. I can bake a pie occasionally. Pumpkin and apple, I baked those two the other day. They were edible.
Recently, Winter called out Star Magazine for publishing false information about her relationship. Winter is well known for calling out bullsh*t when she sees it, be it about policing women's bodies or spreading false/harmful information about people. She posted a powerful Instagram post calling out the outlet on June 21, 2017,
Star Magazine is OBVIOUSLY a non reputable source and a trash magazine, but seriously how dare you make up stuff that you have no idea about? I have a BOYFRIEND and a PERSONAL ASSISTANT who are NOT the same person. I would NEVER pay my boyfriend ANY sort of allowance, nor would he EVER accept if I offered. He BUYS his own stuff whether it's for me or for himself, and he more than pulls his weight for our life. I HATE fake news, but I guess that's what our world has come to. Get your shit straight. I don't support anyone, and I don't need anyone to support me. He's got a full career (including something huge that's new) and works hard for it. He's not just someone's boyfriend. So if you don't know us, don't comment. Xoxo
Ariel, you're killing this red carpet, girl.