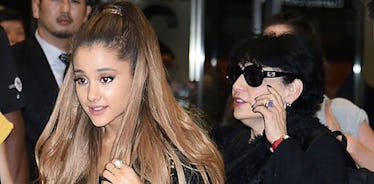 Ariana Grande's Mom Shares Emotional Message For Fans Following Manchester Attack
Getty Images/ Jun Sato
Ariana Grande's mother, Joan Grande, is standing by her daughter and the victims of the horrific Manchester attack.
She took to Twitter on Memorial Day to address fans one week after the incident.
In a note accompanied by a #MemorialDay hashtag, she wrote,
This past week I have spent in reflective thought, prayer & deep sorrow. I join my daughter in extending my help & services to all those affected by the diabolical act of terror which occurred in Manchester!
Ariana has committed to helping the victims by paying for funeral costs and hosting a benefit concert.
The pop star wrote,
Music is something that everyone on Earth can share. Music is meant to heal us, to bring us together, to make us happy. So this is what it will continue to do for us.
Joan echoed her daughter's sentiment and refused to back down to terror.
Her note on Twitter continued,
Those who lost their lives, those injured, those recovering & all survivors of that night, along with the families & friends whose grief knows no bounds. I stand with you all in the face of evil & we stand together to never let it rule our lives.
Joan was with her daughter at the Manchester Arena the night of the attack. After the show finished, the bomb went off. Salman Abedi, 22, was targeted as the suspect and the Islamic State claimed responsibility.
The gruesome attack took the lives of 8-year-old Saffie Rose Roussos, 18-year-old Georgina Callander, 26-year-old John Atkinson, among others.
Citizens and celebrities continue to stand by Ariana and the victims' families during this time. Harry Styles phoned 14-year-old Freya Lewis who attended the show with her friend, Nell Jones, who was killed in the bombing. Miley Cyrus dedicated her Voice performance to Ariana and the victims and Katy Perry followed suit with her own performance.
Our thoughts and prayers are with the victims and their families.
Citations: @joangrande (Twitter)