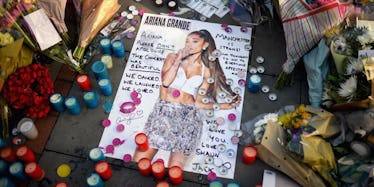 Ariana Grande Pens Emotional Note To Fans: "We Will Not Quit Or Operate In Fear"
Jeff J Mitchell/Getty Images
Ariana Grande wrote a moving note to her fans after the deadly attack at her concert in Manchester on Monday, in which she announced a benefit concert.
She posted the note, which she wrote to the victims of the attack and their loved ones, on Twitter on Friday.
22 people were killed after a lone bomber detonated an improvised explosive device outside of the Manchester Arena at the close of Grande's concert on Monday night. About 60 people were injured.
Grande's latest tweet is a more expansive note than her initial tweet about the attack. On Monday night, Grande tweeted, "broken. from the bottom of my heart, i am so so sorry. i don't have words."
Grande's Friday tweet included a long note, saying she would "extend my hand and heart and everything I possibly can give to you and yours."
She said that her "heart, prayers and deepest condolences are with the victims of the Manchester Attack and their loved ones."
Grande wrote that she has been thinking of her fans "non stop" over the past week, and that fans' reactions to the attack has inspired her and "made me more proud than you'll ever know."
After Grande's initial tweet on Monday, fans used the hashtag #ThisIsNotYourFaultAriana to support the star.
"
"The compassion, kindness, love, strength and oneness that you've shown one another this past week is the opposite of the heinous intentions it must take to pull off something as evil as what happened Monday," Grande wrote in her note on Friday.
Grande wrote in her note that "the only thing we can do now is choose how we let this affect us and how we live our lives from here on out."
She wrote,
We will never be able to understand why events like this take place because it is not in our nature, which is why we shouldn't recoil. We will not quit or operate in fear. We won't let this divide us. We won't let hate win.
With this feeling in mind, Grande said that she will be holding a benefit concert in "the incredibly brave city of Manchester."
The details have not been confirmed yet, but the concert will be "in honor of and to raise money for the victims and their families."
Grande's "Dangerous Woman Tour," she said, is "intended to be a safe space for my fans. A place for them to escape, to celebrate, to heal, to feel safe and to be themselves. To meet their friends they've made online. To express themselves."
She wrote that her intention will not change in the wake of the attack.
Music is something that everyone on Earth can share. Music is meant to heal us, to bring us together, to make us happy. So this is what it will continue to do for us.
Grande concluded her note by saying that the fans and loved ones affected by the attack "will be on my mind and in my heart everyday."