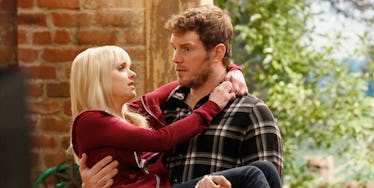 A Look Back At Chris Pratt And Anna Faris' Cutest Moments As A Couple – PHOTOS
CBS
Wow, Monday -- way to kick us when we're down. As if it's not already enough that it's the first day of the work week and we're all hungover and everyone's miserable, news just broke that famous, serious relationship-goals couple Chris Pratt and Anna Faris broke up. It's like "WE GET IT MONDAY. YOU HATE US."
Pratt announced the news in a Facebook post that just about broke us. His message was heart felt and to the point.
He said,
Anna and I are sad to announce we are legally separating. We tried hard for a long time, and we're really disappointed. Our son has two parents who love him very much and for his sake we want to keep this situation as private as possible moving forward. We still have love for each other, will always cherish our time together and continue to have the deepest respect for one another.
Well, sh*t. If there were two people who I ever thought were going to make it, it was these gorgeous goofballs.
Here is a look back at some of our favorite moments of their relationship, may it rest in rosé (and peace).
1. When Pratt braided Faris' hair and loved it.
He captioned the photo,
I have found my niche. Hair stylist to the stars. I work for free. #BonjourFreedomBraid #lePlat #braidYOgirlsHairDAWG #man #manbraid #baller #vidalSassoon
Faris was honest and tweeted, "honey-you can't just send me a photo like this and not expect me to tweet it."
What can we say? When she's right, she's right.
3. Anytime they goofed around together on the red carpet.
Is there anything better than two hilarious, beautiful people being hilarious and beautiful together?
4. Every time they kissed like they meant it.
Nothing makes me swoon more than two people being loud and proud about their love. LOOK AT THAT BACK BEND.
5. When they posted this poorly-lit and very cliché foot photo watching a movie with their son.
Mom and dad, stahp. We seriously can't with this.
6. When Pratt took his own paparazzi photos of his wife.
These two were always each other's biggest fans, and now it's like, what even am I supposed to do besides eat myself into a nightmare-driven food coma?
7. This time when they were just another drunk couple on the dance floor.
If this isn't what true love looks like, then I don't want anything to do with this world.
8. When Pratt called Anna a "kite master."
It's ok Anna! We're still routing for you!!!
9. When they just wanted to drink a beer together.
Anna captioned the photo "My sweet husband trying to explain strategy," assuming this was some sort of awesome, celebrity couples drinking game.
Pratt told Stephen Colbert in an interview that he considered himself a "mixtape guy," and had one time made his wife a sexy mixtape. He said,
I could tell right — big miss... [She was like] 'Who are you? You don't listen to Al Green. What are you trying to pull? We're already married — it's cool.'
Ah, Chris and Anna, we blame ourselves. Good luck and thinking about you both during this heartbreaking time.