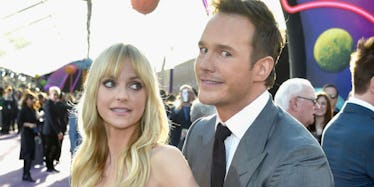 Anna Faris Posting A Shirtless Pic of Chris Pratt Is Marriage Goals
Photo by Frazer Harrison/Getty Images
Excuse me, everyone! I AM ENGAGED! ME! I'm getting married! HELLOOOO!
Phew. That felt good... and also, when my fiancé and I grow up, we want to be just like Chris Pratt and Anna Faris.
Don't we look just like them?
OK, OK, OK. This isn't about me, if you can even believe it.
The real dynamic duo has been simultaneously making America laugh and swoon for years, and are going on eight strong years of marriage this July. Not so surprisingly, they are just as crazy about each other as ever.
To prove it, Faris posted a pic of her funny honey looking oh-so-steamy in a new, shirtless, black and white photograph, as reported by People.
Apparently, Pratt sent it to her originally, prompting Faris to write the caption,
honey-you can't just send me a photo like this and not expect me to tweet it
Anna, we agree! And also, thank you. 
Despite the heavy keg lifting he appears to be doing here, Pratt has been heavily documenting his fitness regime in preparation for his upcoming film, Jurassic World 2. In fact, the actor has lost so much weight, his wife Anna is weighing in. (GET IT?!)
She told People,
I have to tell you want I want to do. I want to unwrap a sleeping bag. Put him in the middle of it. Roll it up. Tie him up. Force-feed him like, dumplings. Put him in the attic. And just fatten him up.
If that's not an ideal spouse displaying ideal love, then I don't know anything anymore.
Pratt also confessed he had once made wife Anna a sexy mixtape, proving once again their adorable love knows no bounds. He said,
I could tell right — big miss... [She] was like, 'Who are you? You don't listen to Al Green. What are you trying to pull? We're already married — it's cool.'
That's OK, Chris. Looks like it still worked out.
For now, my fiancé and I will be closely following Pratt's #whatsmysnack fitness regime in hopes we wake up one day in a Freaky Friday scenario with the too cute and too hot duo, where we find ourselves to be famous celebrities and they find themselves eating tacos on our apartment floor.
Weirder things have happened, right?