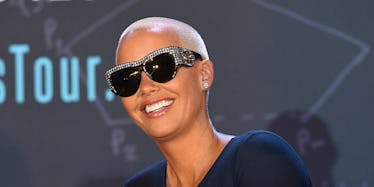 Amber Rose Explains The Meaning Behind Calling Herself And Other Women 'Sluts'
Getty Images
Amber Rose has grown accustomed to being judged and talked about, but there are a few things she doesn't want you to get twisted about her stance on women's rights and sex positivity.
The model and entrepreneur took to her Instagram to clear up a few inaccurate notions about her position on sex and gender equality.
Apparently there are a few frequently asked questions the model doesn't want to be approached with anymore, as she goes forward with the promotion of her Slut Walk Festival set to go down in October.
This is what you need to get, once and for all, about one of feminism's most polarizing faces.
Don't correct her for embracing the word "slut." Correct yourself.
Rose wrote on Instagram,
Most people think the definition of a slut is a promiscuous woman who has sex with any and everyone in exchange for money, gifts and/or just genuinely loves sex. But that's not the definition at all. It's just a derogatory word that insecure men and women use against other women when they're uncomfortable with their beauty, sexuality or confidence.
True, the traditional definition of the word "slut" has often been associated with how often a woman has sex and how many partners she sleeps with. People other than the woman often make decisions about those intimacy details, and subsequently assign the "slut" label based on those assumptions.
And even if their assumptions are correct, they are rarely as venomous with their wording when addressing men with equal or more detailed sexual history.
Rose further explained how she feels about the word "slut":
I used to let those words hurt me but now I embrace all of the derogatory labels with open ams. I've helped so many women around the world do the same.
Understand that she isn't an advocate for girls to sleep around with huge numbers of guys.
Rose is first and foremost an advocate for a woman's choice to engage in whatever sexual activity she chooses, but her primary platform is not one giant, "go fuck everybody" campaign.
No matter how she has worded herself, that doesn't stop the internet from making the accusation:
This is her response to people who ask why she pushes that rhetoric to young women:
She says,
I have never said that to any grown woman or young girl…literally ever! Also the men and women that I speak to are over 18 (Adults). I am an advocate for safe sex, women's rights and gender equality. My words get misconstrued because people tend to not do their research on what I stand for. I promote being unapologetic for your sexuality, I promote women to not apologize of feel bad for being sexual beings and yes even the moms out there too.
Amber Rose also addressed society's sexist double standards:
She said,
Men speak freely about sex and get praised constantly but as women we get ridiculed, bulled and shut down by society.
Simply examining the industry that Rose works in will prove her point.
Drake is known for hopping from woman to woman, but praised for bagging some of the most desirable women in the industry — like Jennifer Lopez, Zoë Kravitz, Tatyana Ali, Serena Williams, Rihanna and [*insert any stripper with an impressive derriere here.*]
He's also openly asked Nicki Minaj for sex on the record, in her song "Only," and humped her in public at a concert. Yet Nicki Minaj is the only rapper of the two who is considered risqué.
And then there are rappers like Lil' Wayne, TI, Young Thug and Future, who all have multiple children with various women. Read: Unprotected sex with various women, but aren't treated the same way these mothers are.
Amber Rose has been in two long-term committed relationships: a two-year relationship with Kanye West and was married to Wiz Khalifa for a year of their two-year relationship. And she was called a "hoe" throughout both.
Now that she is single and mingling, the "hoe" accusations have only increased. Yet, when she embraces it because she knows the term is only purposed to police her, that's criticized too.
It's time for all of us to stop penalizing Amber Rose for bringing more attention to the offensive words we use to confine women to archaic gender roles — and to start asking ourselves why we do it so naturally in the first place.