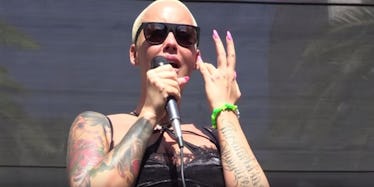 Why Amber Rose Leading The 'SlutWalk' Was A Step In The Right Direction
Youtube
While politicians are taking sides on the Planned Parenthood debate, this past Saturday in Los Angeles, another women's rights rally took place.
No, the person speaking wasn't Hillary Clinton or Carly Fiorina. This time, the fight for women's rights had a different face.
She has a bronze glow that glistens in the LA sun. And rather than a pantsuit, she went with racy, jet-black lingerie, and exposed her inky sleeves.
Even more exposed was the sign she held above her head. It read in bold letters: "Strippers have feelings, too."
Amber Rose's stand at the SlutWalk in LA this past Saturday was valiant.
The march, which was intended to bring awareness to sexual violence and gender equality, did just that. But even more great was the lesson she taught us: Everyone is human, and deserves to be treated as such.
We've all ignorantly used the word "slut."
Moms say crop tops makes you look like one, and your boys warn you about "wifing them up." It's not the most flattering or politically correct word, but it is deemed acceptable when used in context, or applied to the right person.
But do we really know what it means?
Emily Lindin, founder of the UnSlut Project, defines the word "slut" as "a catch-all insult used to oppress girls and women." The UnSlut organization promotes gender equality, sex positivity and comprehensive, age-appropriate sex education.
Dictionary.com defines "slut" as a promiscuous woman, and even references prostitutes. Urban Dictionary says a "slut" is a woman with the morals of a man (go figure).
No matter where you turn, you will find the term "slut" almost always refers to women, and what is unacceptable for them to do with their body.
Yet, somehow, the word has seamlessly integrated itself into our everyday vernacular, without us realizing the damage it's causing.
She strips? She's a hoe. She masturbates? She's a freak. She likes going commando? She must be "down."
The idea that men can keep women confined to these moralistic standards of sexuality — that they themselves do not even attempt to abide by — is the epitome of male elitism.
Terms like "hoe" and "slut" were solely created to justify why a woman should limit herself, which is what makes the SlutWalk so liberating.
As Amber Rose stood on the stage at the end of the walk, sobbing through the pain these words have caused her, she was giving strength to those not brave enough to stand up for themselves.
She used her narrative to give a voice to the women who have had to face far more severe circumstances, so that other women wouldn't face the same thing.
Amber Rose teaches us women can be sexual beings, and still have morals and love themselves.
You don't have to choose between the two.
Through Amber Rose, we can learn that, like men, women have the right to choose what they want to do with their bodies. If women aren't afforded that same human right, what do they have?
Slut-shaming and the SlutWalk goes far beyond Amber Rose and her history as a stripper.
It's about reclaiming a word that was intended to condemn. It's about giving back a woman's rights to her own body, identity, sexuality and consent.
Movements like the SlutWalk and UnSlut Project were not formed to give women an excuse to sleep around. It's so women won't need one.
To learn more about the UnSlut Project, and to bring it to a school near you, visit www.unslutproject.com.