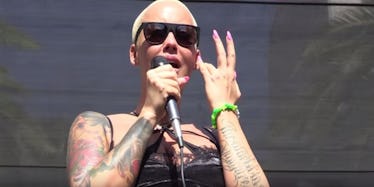 Amber Rose Got Super Emotional Over Kanye And Wiz Khalifa At 'SlutWalk' (Video)
Amber Rose is famous, largely in part, for her relationships with Kanye West and Wiz Khalifa, but the very people who helped her gain worldwide recognition apparently caused her the greatest deal of pain.
Rose hosted a SlutWalk in Los Angeles' Pershing Square, CNN reports, attended by several hundred lingerie-clad participants bent on reminding those watching, as one sign read, "my clothes are not my consent."
In a video of Rose's speech at the event, she opened up about her nearly lifelong struggle with slut shaming and reflected on her experiences with West and Khalifa.
During a radio interview, West famously mentioned he needed "30 showers" after his two-year relationship with Rose before being welcomed into his now-wife's bed. In a song, Khalifa reduced Rose to merely a stripper rather than his former love or the mother of his child.
While recounting the backlash from these relationships, Rose broke down. The supportive crowd cheered her on, chanting her name.
She forgave "ignorant" shamers, preached positivity and beckoned to the crowd to join together and "be positive role models for each other."
The controversial concept of the SlutWalk was formed in London in 2011 after an offhand response made by a police officer in the wake of several sexual assaults at Canada's York University sparked outrage. The officer allegedly suggested,
Women should avoid dressing like sluts in order not to be victimized.
Rose's walk arrived shortly after the release of a Funny or Die video promoting sexual positivity titled "Walk of No Shame," which turned the Walk of Shame tradition into a prideful experience.
The former stripper also turned heads when she arrived to this year's MTV VMA's with pal Blac Chyna in matching outfits scrawled with hateful slogans commonly used to shame and oppress women.
Check out Rose's speech below.
Citations: Amber Rose's SlutWalk sparks debate (CNN)