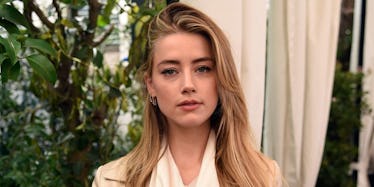 Amber Heard Reveals What It Was Like To Come Out To Hollywood As Bisexual
REX/Shutterstock
Early in her career, Amber Heard was not encouraged to be honest about her sexuality.
Amber's bisexuality and activism in the LGBTQ community were never parts of her life that felt out of place, but the entertainment industry wasn't always as tolerant.
At The Economist's second annual Pride & Prejudice event in New York on Thursday, she recalled the time in 2010 when Ellen Degeneres asked about her sexuality.
She told the audience,
I just answered honestly. I could tell by the look on this person's face it was a big deal. My poor publicist. Then I realized the gravity of what I had done and why so many people — studio execs, agents, advisors — did not want this coming before my name. I became attached to a label. I've never seen myself defined by the person I'm with… I saw myself being in this unique position and having a unique responsibility. So, I bit the bullet.
Amber claimed Hollywood demands its leading ladies appear attainable to the everyday person.
She explained,
As a leading lady, there's a certain amount of wish fulfillment. I was asked 'How is anyone going to invest in you romantically if they think you're unavailable?'
Though her divorce from Johnny Depp was finalized earlier this year, offering her the appearance of attainability once again, she doesn't plan on muting her reality to fit into an outdated art form.
Instead, Amber hopes Hollywood catches up to the world around it.
She said,
If we're meant to reflect the world around us, the whole point of telling stories and reaching audiences is to challenge the status quo, to push the envelope. Not just to meet the status quo. We're in a unique position to do this… We need to be actively pushing.
The "Aquaman" actress admitted there's "a long way to go," but progress has been made. She, for one, "never hid" and hopes there is a future in which no one else has to either.
Citations: Amber Heard Recalls Coming Out as Bisexual in 2010: "I Became Attached to a Label" (E!)