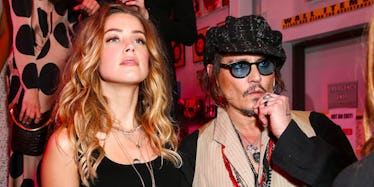 Amber Heard Is Donating All $7 Million Of Her Johnny Depp Divorce Settlement
REX
We reported earlier about how Amber Heard and Johnny Depp reached a divorce settlement that awarded Amber $7 million, but newsflash -- she's not keeping a single cent of it. Not. One. Dime.
That's because Amber is donating the entire lump sum to charity, like a boss. Here's what the 30-year-old had to say in a statement,
As described in the restraining order and divorce settlement, money played no role for me personally and never has. Except to the extent that I could donate it to charity and, in doing so, hopefully help those less able to defend themselves.
See Johnny? Sometimes messages are more eloquently put, you know, when they're not written in a mixture of blood and paint.
I'm referring to the recent report that Johnny scrawled a message on a mirror with the stump of his finger accusing Amber of cheating on her.
Talk about a creepy arts and crafts project, right?
While Johnny took the low road, Amber has taken the philanthropic high road. Bravo, Amber.
Amber will be donating the $7 million settlement payoff to two extremely worthy causes. She added,
The donation will be divided equally between the ACLU, with a particular focus to stop violence against women, and the Children's Hospital of Los Angeles, where I have worked as a volunteer for the past 10 years alongside organizations like the Art of Elysium. Over the years, I have seen firsthand how more funding for staffing, better equipment and better medication can make the difference between life or death for a child.
Seriously, Amber, you are a class act. You've taken a messy situation and transformed it into an incredible opportunity for those who need it the most.
Of course, both the ACLU and the Children's Hospital Los Angeles were over the moon with this beautiful gesture.
The ACLU executive director Anthony D. Romero said this about the 30-year-old's donation,
For years, we have worked through the courts and legislatures around the country to make sure that domestic violence victims are fully protected by the law and receive the government assistance they deserve. We could not be more thankful for Ms. Heard's support- she can be confident that this gift will help other women live safely and freely.
I'm not crying my eyes are just sweating. Jeez, leave me alone, K?
Meanwhile, CHLA's president and chief executive officer Paul S. Viviano issued this statement, saying,
On behalf of Children's Hospital Los Angeles' leadership, staff and the thousands of brave patients and their families who will benefit from this donation, I would like to thank Amber Heard for this tremendous gift. Her generosity will support the lifesaving treatments and cures that Children's Hospital Los Angeles provides for critically ill children each year.
I'm truly inspired to see how this tumultuous split is actually going to help victims of domestic violence and critically ill children.
Citations: Amber Heard to Donate Full $7 Million Johnny Depp Divorce Settlement to Charity: 'Money Played No Role' (E!)