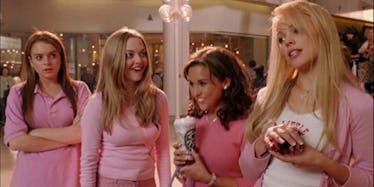 A 'Mean Girls' Star Gave Birth To Her First Child, So Prepare To Feel Old
Paramount Pictures
Mean Girls probably came out, what, like five years ago or something?
HAH, nope. It actually came out 13 years ago. *cringes*
And if that wasn't enough to make you feel super old, what if I told you one of the stars just had her first baby?
Amanda Seyfried and her husband, Thomas Sadoski, just brought a baby girl into the world, E! News confirmed. Her name has not yet been disclosed.
The star-studded couple first announced their pregnancy back in November, just two months after they got engaged.
Earlier this month, the 31-year-old actress talked openly about how excited she was to meet her baby:
I'm ready to go. I'm ready to meet the kid!
Sadoski admitted,
I'm terrified but I couldn't be more excited. She gets the singing. I do the diaper changing.
Hell, yes: No silly gender roles in this family.
Despite how fast the relationship seems to be moving between Seyfried and Sadoski – who eloped in a secret ceremony only about a week ago – the "The Last Word" actress has been open about her desire to have children for several years.
Back in August 2015, she told Marie Claire UK,
I keep feeling like my eggs are dying off. I need to get on it… I want a child. Badly. I want to be a mother, badly. That's what I feel. I've been feeling it for like, two years. I'm not ready but nobody's ready. It changes everything… so how can you ever be ready for that?
Right on, girl. No one ever "feels" like they're ready. But sometimes, when you know, you simply just know.
The news of the beautiful couple's baby girl comes just one week after they managed to pull off a totally private wedding ceremony.
Sadoski told "The Late Late Show" host James Corden,
We eloped. We just took off into the country with an officiant, just the two of us, and we did our thing. She's the person that I love, admire and respect most in the world. I know that you guys are close friends and that she would want you to know, so just keep it quiet, don't tell anybody. It was beautiful. It was everything that it should be. It was just the two of us talking to each other.
Congrats to the happy couple!
Citations: Amanda Seyfried Gives Birth to First Child With Thomas Sadoski (E! News), Pregnant Amanda Seyfried and Thomas Sadoski Turn The Last Word Premiere Into Date Night (E! News), Amanda Seyfried Wants to Have a Child Badly (Just Jared)